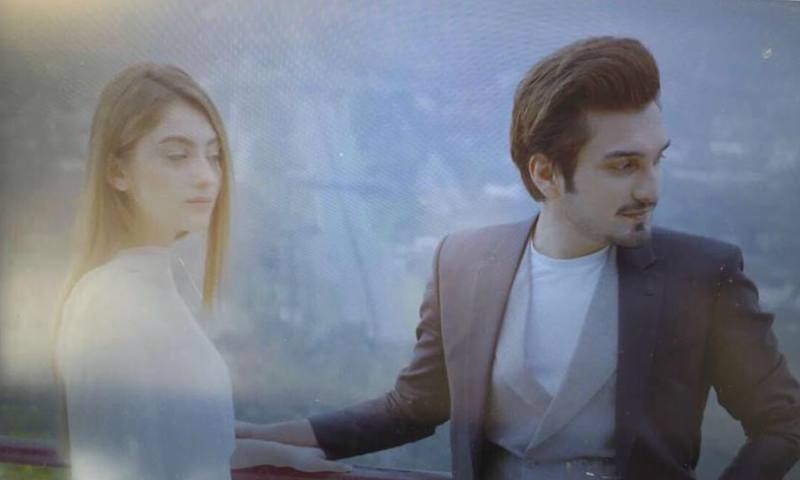 Will Uzair Jaswal's debut show be able to create a niche for itself despite being clichéd romantic tale?

Despite Pakistan's television industry churning out revolutionary dramas such as Udaari - which addressed the issue of sexual harassment - and Khuda Mera Bhi Hai - which highlights the plight of transgenders in our society - it is going to take some time before we completely rid ourselves of clichéd scripts and sloppy execution. The mushy love stories are reigning supreme on our television sets nowadays and we aren't exactly complaining because, let's admit, sometimes all we need, to take a break from the bitter reality around us, is a cheesy chick flick. And who says clichéd romance doesn't happen in real life, for some lucky people, it is as real as Trump's hatred for Muslims.
On that note, let's introduce you to ARY Digital's drama serial, Moray Saiyaan! which is an Abdullah Seja production under the banner of IDream entertainment. The drama watching audience has been blessed with yet another lovey dovey drama serial, starring Uzair Jaswal, Neha Rajput, Ali Kazmi, Ayesha Toor, Asif Raza Mir and Firdous Jamal. The story revolves around two young people who fall in love (like all young people do in Pakistani dramas) and all that follows the first confession.
Moray Saiyaan is going to mark Jaswal's debut on television and he plays the role of a rather aggressive lover who doesn't believe in keeping his emotions to himself.
"It is a pure and true love story. My character is headstrong, spontaneous and expressive, and is in love with the feeling of love. The drama isn't overly 'dramatic'," Jaswal told HIP, which came as a relief because too much drama tends to make us nauseous. "My character faces a hard time for being so expressive because the girl isn't as expressive as him but that doesn't stop him from being himself."
We like the sound of Jaswal's character. A guy with a go-getter attitude trying to win over a shy dame - all of it is reminiscent of old school English romance and while we might catch ourselves rolling our eyes at the soppiness, we can rely on Moray Saiyaan to become our guilty pleasure.
Does the teaser compel us to watch the show?
A melodic tune plays in the background and we see the young couple gazing into each other's eyes. Suddenly, the girl decides to break the stare and giggles away in the background while Jaswal is left looking forlorn.
Does the teaser leave us wanting for more? We're not so sure. The scenery and the imagery in the teaser promises an aesthetically pleasing drama serial and the conventionally good-looking actors are a cherry on the top, but only time will tell whether this drama caters to our romantic taste buds or not. The picturesque views don't come as a surprise since Jaswal told us that a large portion of the show was shot in Nathia Gali.
While talking about his camaraderie with Neha Rajput - the female protagonist - Jaswal added,
"This is our first drama and working with Neha was a lot of fun and we had a great time together."
The drama which is an IDream entertainment production is going to air on ARY digital within two weeks time so get ready for some moments filled with romance, passion and all that comes with newfound love.