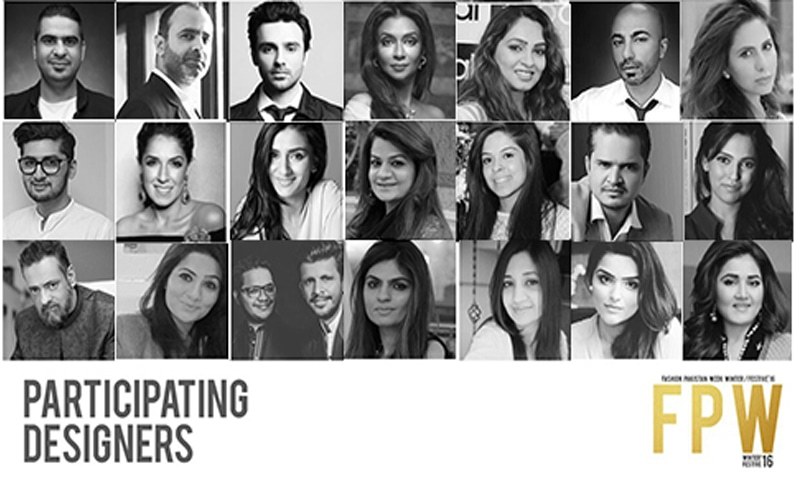 Pakistan Fashion Council has lined up 21 esteemed designers who will be displaying the best of their atelier

Amidst an amalgamation of rallies, media circuses and gossips going on in Karachi, it's time for a spectacle like no other, in the form of Fashion Pakistan Week Winter Festive 2016. All set for a three-day Autumn/Winter couture showcase of epic proportions, the Pakistan Fashion Council has just announced its glittering line-up of the 21 designers who will be displaying the best of their atelier.
Celebrating its 10 years of style with 2016 being the 11th fashion week, Fashion Pakistan Council board members, Maheen Khan, Maheen Karim, Nauman Arfeen, Obaid Sheikh, Aamna Aqeel, Deepak Perwani, and Nida Azwer, have managed to create a list of designers representing both fashion hubs of Pakistan, Lahore and Karachi.
According to the list released by the FPC, the confirmed designers/brands include Amir Adnan, Arsalan Iqbal, Deepak n Fahad, Deepak Perwani, HEM by Sumbul Asif, HSY, Fnk Asia by Huma Adnan, Jeem by Hamza Bokhari, Maheen Karim, Misha Lakhani, Mona Imran, Natasha Kamal, Nauman Arfeen, Nida Azwer, Republic Womenswear, Rozina Munib, Saira Rizwan, Shehla Chatoor, Sobia Nazir, Shamaeel Ansari, and Suffuse by Sana Yasir.
The list, which has its fair share of menswear, womenswear, couturiers, and some veteran designers, also has new names attached to the fashion festive such as Sumbul Asif, Rozina Munib, Hamza Bokhari, and Sana Yasir, who will be showing their A/W collections '16-17 in their showcases in Karachi. However, what we're more interested in, is the number of differences we would get to see this time around in comparison to the S/S FPW showcase a few months ago which left us wishing for events that would start on time. But, then again, that still remains a dream.
Taking place from 30th October to 1st November, FPW Winter Festive 2016 will be styled by Pakistan's favourite stylist, Nabila (NPRO and NGents), while the event will be managed by CKO events, with Production 021 handling the backstage.
With just a few weeks left till the show, one has to wait and wonder if the audience would get to see a perennial showcase from the designers yet again, or something that does bring its edge to the mild winters of Pakistan. We are as excited as you are and all we can say is, let the winter games begin!