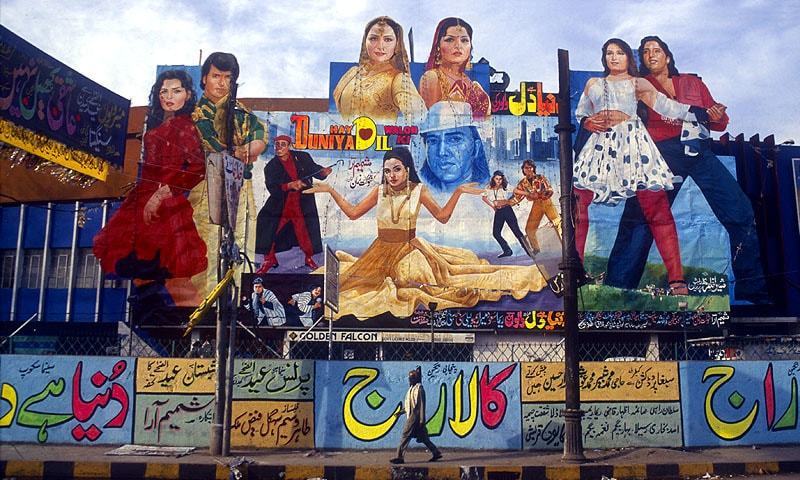 Let's ask the experts!

We find ourselves asking this question time again and the answer varies from person to person. If you're a patriot through and through then you tend to yell, "Ban Bollywood", but if you keep a close eye on the entertainment business and the history of Pakistani cinema then all you can manage is, "I don't know. Maybe, we shouldn't let our entertainment industry suffer because of the political differences." Because, if we look at the impact of the previous ban (on Indian films) then there is only one word to describe it - Disaster!
Government of Pakistan decided to ban Indian films in 1962 and although 60s is considered as the Golden Era of Pakistani cinema, we cannot deny that by the 70s - after the 1971 war and the resultant "brain drain" as they like to call it - Pakistan's cinema industry went only downhill and by the 90s' working in a Pakistani film was considered a taboo. The ban was lifted in 2006, and boom we saw a Khuda Ke liye in 2007. industry analysts suggest that the downfall of Pakistani cinema happened due to lack of competition.
But now the situation is different. We have our Jawani Phir Nahi Aanis and Actor In Laws bringing in box office numbers and Mantos and Moors bringing in all the critical acclaim we need.
Question arises, do we still need Bollywood to survive as an industry?
With the Indo-Pak tension arising, the artists were the first ones in the line of fire (after the soldiers of course). Mahira Khan, arguably, spent many nights pondering if she'll ever be as Raees (pun intended) as she was going to be prior to the ban placed by Indian Motion Picture Producers' Association (IMPPA) and Fawad Khan might often find himself humming, "Ae dil Hai Mushqil".
To show solidarity with our stars, exhibitors decided to place a ban on Indian films until "normalcy" returns between the two estranged neighbours.
While many people supported the ban on Bollywood films, famous actor and producer, Humayun Saeed, had a conflicting opinion regarding the matter.
"At this hour, Pakistani cinema needs Bollywood films because the Pakistani film industry isn't strong enough to solely run cinemas on their own because a cinema needs one new film each week and our industry only makes a handful of films each year. It was only after the screening of Indian films that cinemas started to sprout up in Pakistan, and only then did we start making films again," Saeed told BBC Urdu.
So is Saeed right? Do cinemas really need Bollywood in order to survive and make good profits or are Pakistani films (and filmmakers) enough to keep it going?
We ask the experts!
"Cinema needs films, so whether it is Hollywood, Bollywood or Lollywood films, it is good news for cinema. That said, I don't think we are dependant on Bollywood for our industry to grow rather we need more focus, contribution and brilliance from our films to sustain it," Murtaza Chaudhry from HKC Entertainment tells HIP. "With so many films coming up and recent hits like Actor in Law and Jannan, we can be certain that there is a huge audience for Pakistani films too. What is required is belief and a long term vision to identify our niche and our identity for films."
He continued to inspire us with his words and suggested this was the time for us to create a unique identity, hence, we should do away with the 'masala' films.
"I think filmmakers need to experiment beyond romcoms and get into genres of film making for it to grow in its true spirit. I am convinced that with our industry and artistes coming out of their shells, we won't really need Bollywood for the development of our industry. It can sustain on its own, provided key stakeholders share this vision and bring the best to the Pakistani silver screen."
While we do agree with Chaudhry that Pakistan's cinema industry is growing since the last three (in fact two) releases - Actor in Law and Janaan - earned well at the box office, we cannot forget the disasters that were Hijrat, Mah-e-Mir, Aksbandh, and even Maalik.
Chief Executive of Mandviwalla Entertainment, Nadeem Mandviwalla, feels that Pakistan should be an open market and audience should have the right to choose the whatever content that they want to watch on the big screen.
"For the exponential growth of the film industry in Pakistan it is necessary to be open to all kind of films which have the popular demand of the public. That is why we have been working for the last three decades to bring legitimacy and it has already borne fruit - you can look at the growth in this sector in the last decade."
He further spoke about how good films will always create a niche for themselves irrespective of them being banned in Pakistan and soon enough, consumers will demand for it from the exhibitors.
"Every vibrant industry will remain dependant on all and every good film whether from India or anywhere else. Pakistan's cinema industry, being in the rebuilding and nascent stage, is more dependent on imported products at the moment. Moreover, even if we build and produce enough films in the future, we will still be dependent on the good international films because cinema runs on public demand and whatever is popular among them should always be available in the cinemas."
Mohsin Yaseen, GM Marketing of Cinepax cinemas, seconded Mandviwalla, and pointed towards the most important factor involved in the business, that is, the number of films produced each year by Pakistan - is the number enough to keep the exhibitors happy?
"For a cinema owner, movies that are popular with the crowd must be screened. ollywood films are the most popular ones, then we have Hollywood, and then come Pakistani films," Yaseen made a rather unfortunate revelation. "Pakistan is producing around 10 films a year so that is obviously not enough to keep a cinema going. We have also started to screen old Pakistani films at Cinepax. The response has been good, but obviously since people have already watched these films, it is not that great."
So there you have it folks! Our multiplexes and even our standalone cinemas need Bollywood films to survive because of two reasons: the public prefers Bollywood films over Pakistani ones (One only has to attend a mehndi to reach this conclusion) and we aren't making enough number of films to sustain the entire industry. Before Meera Jee decides to make that Oscar (yes, she's making a film titled b for god knows what reasons).