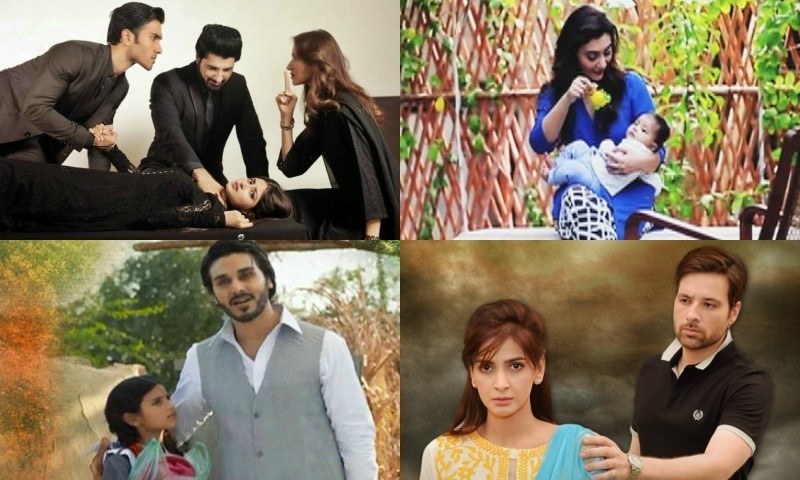 In a society where gender and sexuality remain taboos, can our dramas really show us the realities of life?

"If you believe that your thoughts originate inside your brain, do you also believe that television shows are made inside your television set?" Not too long ago, it was auteur and critic of television, Warren Ellis, who warned us of the implicit effects of what we see on TV and how it is represented. However, much like everywhere else around the world, Pakistan took up the visual medium as the best answer to all their problems, without ever questioning it. Whether it's political agendas on the plethora of talk shows or the equally dramatic soap operas, we're hooked and we can't help it! But, is all that on TV bad? Or are we just too afraid to look into the mirror it has become?
From the era of Aahat to the age of Udaari, dramas in Pakistan have taken up subjects of public interest on all tangents of life. However, the one subject it has never hit on until today, due to the taboos purposefully stuck to it, remains sexuality. But, are we witnessing a shift for all things better in our television industry where sexuality won't be considered a taboo?
HIP looks at the winds of change in new Pakistani dramas and how that may be building up new ideals.
Merely a few decades ago, the very concept of gender in Pakistan was akin to being lost in translation, and TV, to a large extent remained the one to be blamed. Whether it was the alpha-male situations continuously portrayed in shows that built on the damsel-in-distress narratives, or the 'men don't cry' days, Pakistani shows represented the ideals every men wanted, and every woman was taught to desire.
In comparison, many shows today refute the very concept that stuck with the television industry for the longest time, but that's not always the case. After all, it was Humsafar, which made us realize a woman might still be represented to exist only for the rights of a man, right? If that's not all, Mann Mayal became the cherry on the top of a purely misogynistic cake, because according to that show women's soul purpose of existence was to fight for the attention of men and that too handsome and accomplished ones.
READ MORE: Mann Mayal ends but the hilarity doesn't
If one thinks that Pakistani dramas have changed, can it really be proved? The majority of shows would oppose the notion, but truly, it was Udaari that challenged that. We finally saw a character that doesn't stop living her life just because men have been shown to control it, either through sexual abuse or through emotional torture. In almost a forty-year-old history of television, we saw the concept of a victim turning into a survivor.
Albeit, for majority of viewers, it came as a shock as PEMRA (Pakistan Electronic Media Regulatory Authority) was bombarded with complaints to take down the "illicit" drama serial. What the complainers didn't realize was, that the drama highlighted, and presented solution, for a very important issue of child abuse.
Drama makers have now taken it a notch further by bringing in Khuda Mera Bhi Hai, which aims to bring the harsh realities of life in front of an audience who shuns the truth as if it may destroy them. Narrating a life of an intersex child, the show finally manages to bring in a subject that we have vociferously ignored, silently hidden in the deepest darkest part of our entire being, and often associated with those below us.
However, that being said, can we expect a representation that would not lead to the same stereotypes we have seen of comparisons of the third sex as just mere pawns of poverty and grief? The makers of the drama think otherwise.
"Eunuchs have always been made fun of in our society and looked down upon and no one, on television, has made an effort to present them in a respectable manner. While theatre has been more embracive of such stories, television hasn't yet evolved to that extent and hence, we felt there was a need to show such a story," Ali Imran, the Head of Content at ARY Digital explained in an interview with HIP a few weeks ago.
Shedding a light where it seems to be most needed, KMBH comes as the epitome of the new age of television in Pakistan, which not only looks at the realities of life, but also mentions the plight of those who remain subaltern. Aiming to bring in the same characteristics that many in European cinemas have brought in, the interesting amalgamation of strong narratives and equally daring aesthetics have changed the ideals of the drama industry in Pakistan - much like those ideals that Jean Luc Godard brought to a post-war France, or Woody Allen to postmodern America.
Read More: Khuda Mera Bhi Hai: Are Pakistani dramas finally opening up to reality?
While the argument of whether Pakistani television has finally opened up to sexuality may be a topic mired in controversy, its importance in modern TV cannot be undermined. Thus, it is the only true way forward from shows that are replete with the same old Saas-Bahu stories that have kept the television channels, TRP charts, and the entire nation hostage since times immemorial.