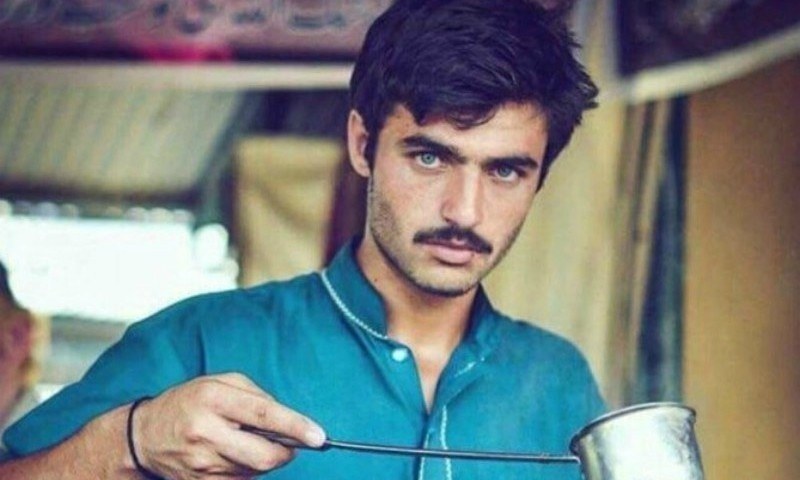 Move aside Fawad Khan, Hamza Abbasi, and Imran Abbas, this chai wala right here is now the man of our dreams!

Somewhere in Islamabad - reportedly in Sunday bazaar - stands a man doing what he does best, that is, making the perfect doodhpatti and most probably blissfully ignorant of the fact that he's the top trend on Pakistan's Twitter. If he his friends with a social media savvy person then he might nonchalantly shrug and say, "Mara, these burgers are too much!". We agree with you there, but how can one ignore this.
Moving on, ever so slightly, it's time we obsessed over the hot chai wala like the rest of the female population of Pakistan. But instead of hash tagging #CuttiePie #HotStuff the hell out of his picture on Twitter and Facebook, we'd rather do something more meaningful. We sit down, with a hot cup of chai of course, and listen to these five Pakistani songs that were made for this blue-eyed beauty.
Sun We Bilori Akh waleya
Are we sure Noor Jehan wasn't aware of his presence when she sang this song? Because this song is a match made in heaven for this blue-eyed chai wala.
Listen to the lyrics carefully because this is what all of us are secretly chanting in our hearts. We'd totally replicate the dance steps to express how strongly we feel about those blue eyes and their intense expression which probably translates to, "What is wrong with you people?"
Aankhon Ke Sagar
If you don't prefer the edgy number and would want to keep things poetic then Shafaqat Amanat Ali's song, "Aankhon ke Sagar...le doobay humein" is what you're looking for.
We can totally imagine this track blaring out of our car speakers as we drive by the Chai wala in slow motion and maybe hope for some 'eye' contact?
Aankhen Milanay wale
This classic by Nazia Hassan is a go-to anthem for any person who happens to fall for a person with gorgeous eyes. Not that we've fallen for the Chai wala (or maybe we have), but wouldn't you want this song to subtly play in the background as you drink that perfect cup of tea made by this gentleman on a cold Islamabad day?
Eye to Eye
How could we have not included the song that perfectly describes the situation!
"Eye to eye, eye to eye
Essential, sensational eyes
My eyes and your eyes
Dreaming fairies eyes our eyes
Fabulous, exciting eyes...
Stylish, excellent, human eyes!"
Yes, we're absolutely gobsmacked by the 'excellent human eyes' of this Chai wala in Islamabad so we won't even mind listening to this disaster of a song because, again, some 'eye to eye' (contact) is all we need with this gentleman.
Read: Five recent Ads that (mis)used celebrities
---
While our perfectly curated playlist plays in the background, don't forget to go through the Twitter trend 'Chai Wala' because if he's your latest crush then you don't want to miss this:
One Indian lady here is reconsidering her stance regarding peace with Pakistan and that's all because of the Chai Wala! Who said beauty was superficial? It has the power to heal the severest of political tensions.
One woman though tried to calm everyone down in Khawaja Asif style.
If you were chanting "Zaalima Coca Cola pila de" a few moments ago, then it's time you moved to something more hotter.
In the end, let's just send a collective prayer towards Jiya Ali who had the presence of mind to capture this perfect looking man and helped us fight our Monday blues. Also, don't be surprised if you see him singing 'Chaye chahiye?' on your TV screens soon enough because a tea brand is sure to capitalise on this Chai wala's fame.