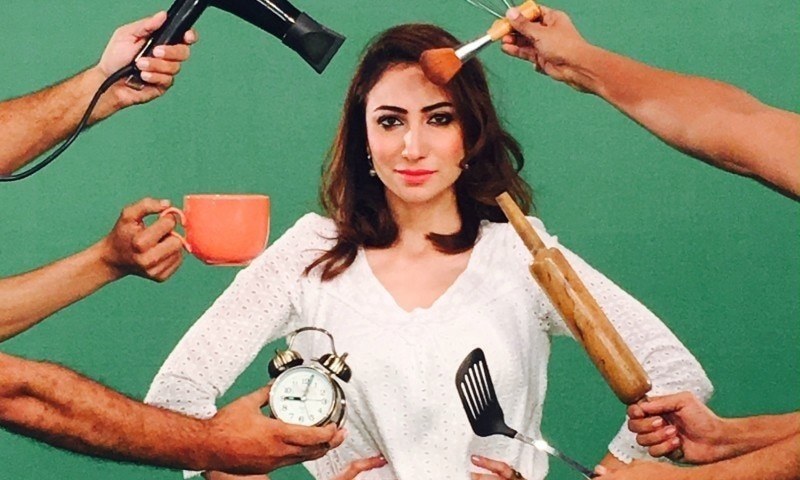 First up, Anoushey Ashraf looks super cute with her simple outfits and girl next door persona.

Recently we revealed that Anoushey Ashraf has made her way to Dawn News for a brand new morning show called Chai, Toast and Host. It is a story about her life as a homemaker, a working lady, an artist, a friend, an advice seeker, a frivolous lighthearted person, a multitasker, a simple girl with large ambitions and aspirations - basically, it shows her in different roles and enables us (the viewers) to associate with her and the morning show in general. The show features a session of daily celebrity gossip, breakfast recipes and comedy by 'Bijli' - the house maid.
The morning show, for a change, provides us with lighthearted morning entertainment instead of heavy dose of a wedding extravaganza or high voltage drama involving a group of disgruntled women (or men).
The minimalism has us impressed
Anoushey Ashraf looks super cute with her simple outfits and girl next door persona. The show explores her meetings with different people from around the neighborhood and the simplicity (read reliability) of the segments has us thinking, "Why didn't anyone ever think of this format ever before?"
READ: A new dawn for Anoushey Ashraf and Dawn News?
Our favourite, however, is the latter half where Anoushey holds a little chit-chat session with guests because may be interviewing people is Anoushye's forte?
The show has its shortcomings
Although it's a good show, it's not really that entertaining, especially the comedy segment which just comes off as a bunch of people trying too hard. Although it looks like the makers made an effort t make it humorous, it just doesn't entertain us.
Then the beginning of the show where everyone is usually in the kitchen and dining table also led to a bit of a confusion, but we soon understood that Chai, Toast Aur Host is a mixture of a talk show, cooking show and a morning show.
All in all, the show is a breath of fresh air with delicious recipes and helpful tips from the guests and is something we can totally watch in the morning! But it's Anoushey's personality that really outshines everything and convinces us to make Chai, Toast Aur Host our regular watch.