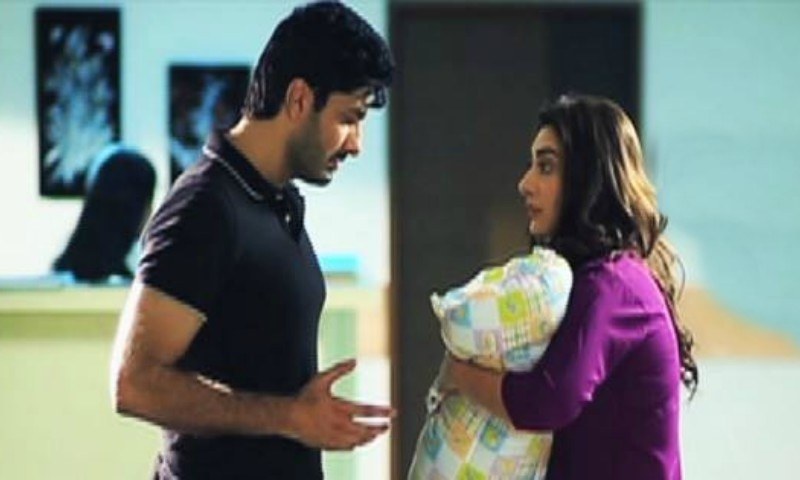 One thing that we love about KMBH is that the mother (woman) is shown to be much more stronger than the husband (man).

It is refreshing to see producers address important topics, like sexual harassment and plight of transgenders, instead of sticking to run of the mill stories featuring damsels in distress that guarantee ratings, but not the critics' approval. Such topics might offend the masses' sensibilities, hence, they complained to the media regulatory authority when HUM TV's serial Udaari dared to show child sexual abuse, but watching saas-bahu dramas offends ours, so we welcome shows like Khuda Mera Bhi Hai (KMBH) with open arms.
The show, which will air on ARY Digital, was praised for its bold stance when it was announced and now when its teasers have gone on air, we can hardly wait to watch the final product. It seems the producer of KMBH, Sana Shahnawaz - who gave us the disastrous Mann Mayal - has decided to take a saner path this time round.
The teasers of Khuda Mera Bhi Hai, starring the elegant Aisha Khan and Syed Jibran, feature meaningful dialogues and are not at all tacky. In fact, one cannot help but wonder why didn't Shahnawaz make her production debut with KMBH instead of Mann Mayal?
Coming back to Khuda Mera Bhi Hai, the play written by Asma Nabeel, is high on strong women and low on unnecessary drama.
It revolves around the life of a transgender so there is a fair bit of human emotions involved but instead of crying over her fate, Khan's character decides to take matters in her own hands which is quite refreshing. The story shows the struggle of a transgender, who is born in a family and a society that is not willing to accept him, and his parents.
We use the term 'strong women' because Aisha Khan plays the role of a mother who decides to raise her child despite knowing the fact that she might have to face a lot of societal pressure. The strength and determination of Khan's character makes Khuda Mera Bhi Hai a must watch for all those women who are going through a similar personal struggles. The drama serial might give these women the strength to face their problems with their head held high just like the protagonist in KMBH.
Read: After Mann Mayal, it's Khuda Mera Bhi Hai from Sana Shahnawaz
In another teaser, we saw Aisha Khan's mother-in-law - played by Irsa Ghazal - acting quite heartless as she asks her son, Jibran Syed, to let the world know that their child has died because, too her, the idea of announcing to the world that her grandchild is in fact a hijra is synonymous to a social suicide.
One thing which we loved about KMBH is how the makers and director, Shahid Shaffat, have shown that a woman can be much stronger then a man. While Jibran is shown going through hell, Khan - after her initial breakdown - toughens up to face the society under the guidance of Saba Hamid - who apparently plays her mother.
But the most important character is being played by Tipu. He is an outstanding actor and to have him on board in such a play is the wisest decision that the team could make.
Khuda Mera Bhi Hai has a strong cast, a good writer - who from what we have read so far has researched her topic very well - and a brilliant director in the form of Shaffat. With such great people onboard, we are looking forward to catch the first episode of Khuda Mera Bhi Hai on Saturday October 22nd on Ary Digital.