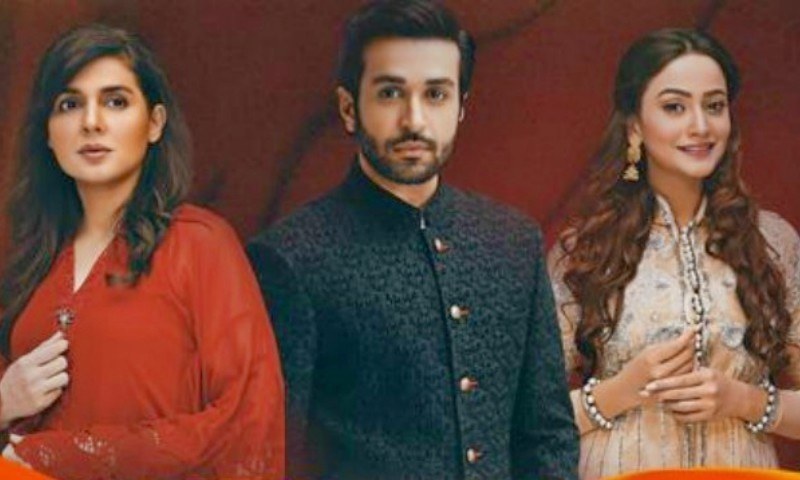 Three episodes down the play is slow paced and lacks depth, making it a bit dull to watch at the moment.
Ever since we saw the trailers of Khoobsurat - a drama serial starring the ageless beauty Mahnoor Baloch, Azfar Rehman and Zarnish Khan - we were pretty excited but three episodes down, the play is slow paced and lacks depth in its story, making it a bit dull to watch. It is only when Khan's character, Mehru, comes in the scene that you actually wake up from your sleeping position and enjoy the play a bit .
Written by Seema Ghazal, this Urdu 1 show has the potential to become interesting, but so far what we've witnessed has bordered towards boring.
Mahrukh ( Mahnoor Baloch) is married to Ahmed Shah (Faisal Rehman) and they live in Dubai. Shah is an independent soul and marriage is not his cup of tea so he is quite aloof from Mahrukh. She, on the other hand, adores him and spends all her time waiting for him to return from work. After many years of being married, a clearly heartbroken Mahrukh decides to come back to Pakistan to meet her father (Qazi Wajid) and her friend Farah (Sabeeka Imam) in the hope that distance might make Ahmed Shah miss her. But up till now no such luck for Mahrukh so she basically mopes around with a long face all the time.
Burhan (Azfar Rehman) and Mehru (Zarnish Khan) are first cousins who are in love with each other but as Burhan does not have a job yet - a mighty problem for every young person in love these days - they are not engaged but Mehru is quite confident that their problems will be resolved soon and both will end up getting married.
Twist in the tale is the entrance of Mehru's Dubai-based cousin, Ashfaq, whom her mother (Asma Abbas) sees as a potential son-in-law because,
a) He is from Dubai so naturally he is rich.
b) If Mehru marries him then she too will get a chance to travel to Dubai and show-off in front of her rather poor relatives.
Read: 5 reasons why we're excited for Mahnoor Baloch's play Khoobsurat
Mehru is not interested in material things so she tells Burhan what is going on in the hope that he tells his father soon before it's too late. But one thing Burhan is very sure of is that no matter what, Mehru will never agree to marry someone else and if forced in front of the Maulana, she would definitely say no. But Mehru's mother seems adamant, hence, things seem pretty done for Mehru and Ashfaq.
The story up till now is cliched, but then again the initial episodes of any show are dedicated to introducing the audience to different characters and in due course, characters will not remain so innocent as they are now. Director Fahim Burney, who also gave us hits like Noor Bano and Tanhai to name a few, has shot the play well and the scenes are well edited too, but it is the script which at times lacks depth. Asma Abbas is such a talented actress that to see her play a typical Punjabi mother just to provide unecessary comic relief makes us cringe.
Azfar Rehman, Mahnoor Baloch, and Faisal Rehman have all so far given average performances. The only person who is a delight is Zarnish Khan; she is full of life and her gestures and dialogue delivery have breathed life into Mehru. She is definitely an actress to watch out for.
The promo for the next episode showed Mahnoor taking interest in her father's business and short listing candidates for a job in their company. We all know that Burhan is in dire need of a job, so will next week be the episode where these two finally meet?
Read: 10 Pakistani celebs who refuse to age
We will be watching Khoobsurat, we haven't brushed it aside completely, but only after a few weeks when we are sure the story has become interesting.