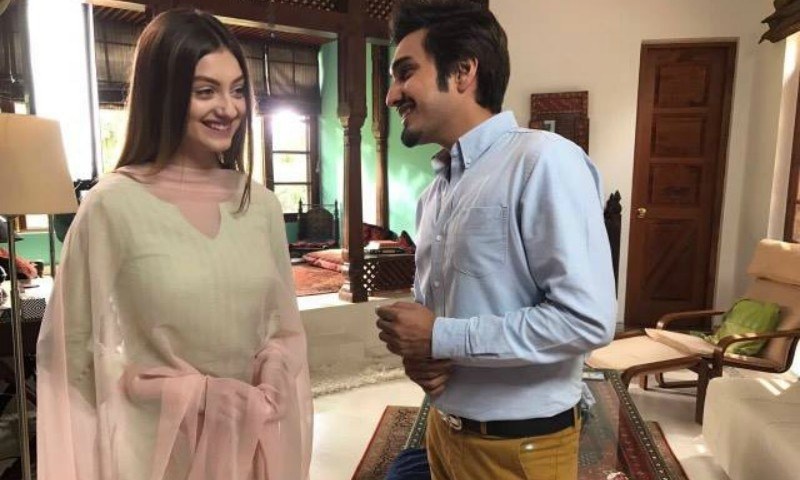 Uzair Jaswal's drama debut performance will hit the TV screens soon

With Pakistani dramas finally going through a revolutionary wave by coming out with dramas like Udaari and Khuda Mera Bhi Hai,which offer narratives that the society desperately needs to be made aware of, we are seeing a change for the better. However, that doesn't mean that the old bittersweet theme of romance and family dramas will completely disappear! After all sometimes all that works is an interesting sobfest that you just need to watch whilst being wrapped in a comfy blanket, right? As much as socially charged dramas are needed in every society, dramas revolving around romance and family issues also reflect quite a significant and real aspect of our society. And now, with Moray Saiyaan, it seems to offer exactly that!
Read: First look: Moray Saiyaan looks like another hackneyed love story
A family drama with just the right amount of romance and all the societal problems that ensue because of it, Moray Saiyaan is being produced by Abdullah Seja productions under the banner of IDream entertainment. Directed by Nadeem Siddique and written by Rabia Razzaque, it stars Uzair Jaswal, Neha Rajput, Ali Kazmi, Ayesha Toor, Asif Raza Mir and Firdous Jamal in significant roles.
The latest promo makes it clearer that the drama is not just limited to a fairytale romance but has much more to offer. The drama, it seems, has thrown a light on the complications a couple faces after Nikkah in our society. We are also shown that Zain, (Uzair Jaswal) likes one girl and wants to marry her but his family wants him to marry a girl of their choice while we also see him politely reject the girl of his family's choice with the most clichéd excuse saying "You don't deserve me".
The promo also shows his family's disapproval over the girl of his choice and his love interest being the famous Pakistani sacrificing goat of a heroine tells him that he should listen to his family. Hence, the promos make it clear that the drama will show a good deal of family dynamics which the audience will be able to relate to.
Talking about his soon to be released production, the producer of the show, Abdullah Seja told HIP,
"The drama is not just based on romance. It highlights a very important social debate regarding the importance of Nikkah and Ruksati and how our people have different views over this. Furthermore, more than romance this play will highlight the family relationships and how sore relationships affect families in general. It will show different stages a family goes through and how important are relationships for everyone. The audience will be able to relate well to the characters because I think problems and issues that these characters will face throughout the serial are often faced by most of the people".
All in all, while we admit we may have thought that the drama is one-dimensional, it isn't at all! In fact, it seems that the drama has a lot to offer. All we can do is wait for the first episode on ARY Digital, to know for sure!