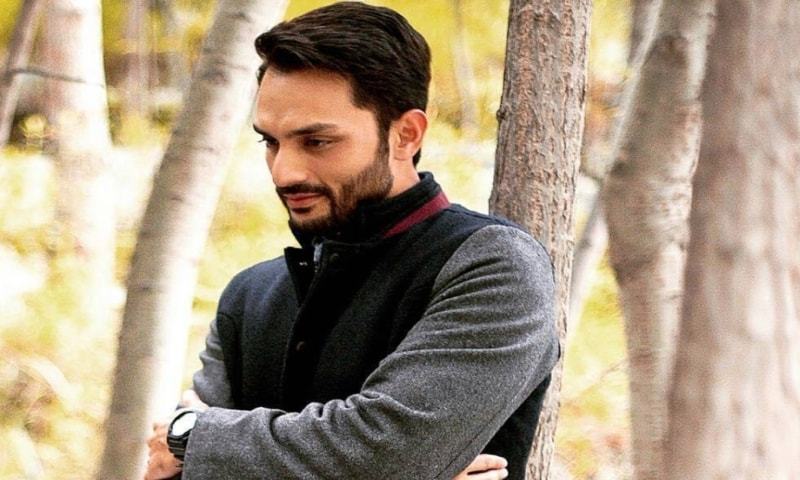 Speaking to HIP about his role, and the best of his experiences, the debuting actor reveals it all!

In an era, which truly makes us believe that the belle époque of Pakistani films has finally arrived due to a burgeoning array of stellar narratives one after the other, we cannot help but feel happy for our film industry, which has finally realized what the public needs. Whether it has been films juxtaposed with 'art' narratives such as Manto and Moor, or the feel-good romance and drama in films like Janaan or Actor in Law, our cinema finally havs the charisma that makes us run towards the theatres in hordes. Now, working on the same lines is the upcoming film, Chalay Thay Saath, which not only promises a power packed performance by Syra Shahroz, Zhalay Sarhadi, Behroze Sabzwari, Mansha Pasha and Kent S. Leung, but also debuting actor, Osama Tahir, whose all set to sizzle the screen next to some of the biggest names in the industry!
Speaking to HIP about his role, his expectations and the best of his experiences, the actor is all set to reveal it all!
HIP: Tell us a little about your role?
Osama Tahir: Well I play Zain in Chalay thay Saath, as one of the leads. Zain is a successful lawyer by profession, married to Tania, played by Mansha Pasha. He's the pragmatic one in the group of friends. A very serious person by nature, but you get to learn that due to certain circumstances in his life, he became that. So if people are fooling around, he's the sort who would consider it as immaturity. You do, however, see him let loose a bit with his buddy Faraz, played by Faris Khalid. Those scenes were a lot of fun to do, Faris is amazing.
It was a lot of fun playing this character, because of the relationship you see he has with the people around him. The way he changes as a person through the journey of self discovery and ultimately focuses on what's really important to him, was the real fun part.
HIP: This is your debut film, what are your expectations?
OT: Ah yes, that question lol. My experience has been up on stage, whether that was as an actor or a producer, even being on set for a few tv serials. Film is a completely different ballgame. I'm super excited to have done a feature! I had a great time. I'm very hopeful. As for what's more to come? A few things are in the pipeline, let's see what happens.
HIP: How was your experience with Chalay Thay Saath?
OT: Everyone put in a lot of hard work of continuous hours. From the director to the crew and everyone in between, did their very best, that too in such a difficult location to shoot. When we wrapped up from Hunza, I actually couldn't believe that we really pulled it off. It was one hell of an experience. I'm very happy with it. I honestly hope that whoever goes to see the movie will enjoy it for what it is, and take something from it at the end of the day.
HIP: You've paired with Mansha Pasha in the film; tell us a little about that.
OT: I'll tell you a little something about mansha. You can have very deep insightful conversations with her for hours at end. Pick a topic related to anything at all, and she will know about it and she can go on about it! It's really cool! She's also great to work with. He approach is always inquisitive about where her character needs to go. And all this shows in her performance!
HIP: How was your experience working with Syra Shahroz?
OT: One simple fact to say about Saira. She's the chilled out mother every child should have. The cast would often chill out with her and Palwasha, the stylist, and watch a movie, talk about silly things, have loads of chai, which she would order, and sandwiches she made herself! The lady went into the hotel kitchen and took over! She made us sandwiches, shami kababs and made us feel at home. That was something we all needed desperately living in Gilgit/Hunza for over 40 days. Working with her was exactly the same thing, chilled out, no worries, a few gags in between takes and get right back to work. It was great.
HIP: Anything else that you would like to tell our readers?
OT: Chalay Thay Saath is a very relatable story. It's about what we go through on a daily basis. It explores life, love and loss. And despite some form of tragedy there can be some kind of beautiful result. There can always be hope. I hope you all get to see it when it comes out, I'm sure you'll really enjoy it!