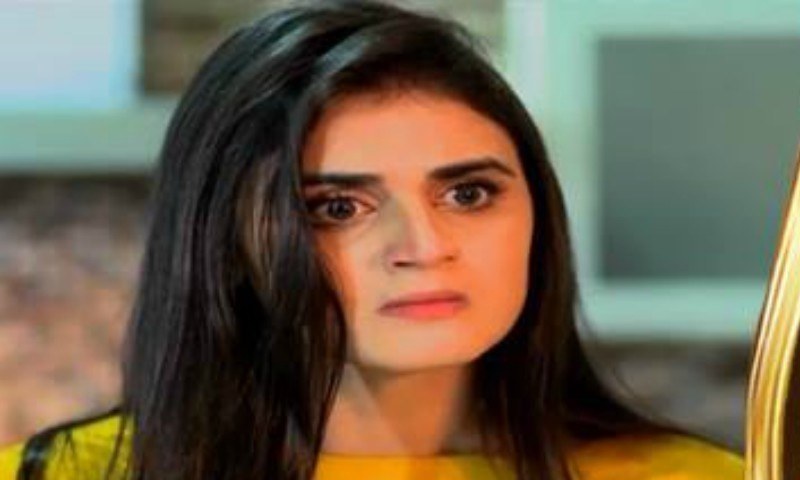 Men cheating on their wives with maids and wooing your step son's girlfriend, are stories we've seen a million times.

Back when Kitni Girhain Baqi Hain aired in 2011, audience loved the show because it dared to touch taboo topics. The series showcases short stories based on real life situations and now the show is back again under Angeline Malik's direction and one episode down, the play unfortunately failed to impress or maybe we were expecting too much from it.
Written by Ambar Faisal and starring Hira Salman, Hassan Ahmed and Ushna Shah, as Saba, Kamran and Rozy respectively, the story didn't break barriers. Men cheating on their wives with maids is a story which we've seen a million times so it was neither shocking to see Daisy flirt with Kamran and nor was it interesting.
Saba is a stereotypical self-obsessed begum, who doesn't like to do any sort of house work, even making a cup of tea for her husband Kamran is a boring task for her while Kamran, on the other hand, is a doting husband who just can't stop raving about Saba's beauty and how lucky he is to have her in his life. Saba's dependency on maids makes her hire a new house help called Daisy (please pay close attention to the names of the maids as if they all belong to a certain religion/ethnicity), who is very ordinary and unhygienic (do we smell another stereotype?), but since she desperately needs a maid she hires her.
Read: Kitni Girhain Baaki Hain to tie a knot with viewers again
Daisy is a slow worker, who day dreams more and works less, and on top of that as soon as Saba is out of the house she tries her makeup, shoes and so on. During one of her trial moments, Kamran catches her but doesn't say a word to Saba. Then one day when Daisy even needs some money for her ailing aunt, Saba scolds her, but Kamran quietly gives her the money. Even up till here we didn't think that something would happen between Daisy and Kamran but then one day Saba decides to make a surprise detour to her home to grab the clothes she forgot and comes face to face with Daisy and Kamran's romantic moment.
This should have shocked or disturbed us right? But it didn't, because we have seen similar situations on our screens many a times and most recent being Main Sitara on Tv One.
Direction by Malik, as far as shots were concerned, was nothing extraordinary, but the work which she got out of her actors was excellent, especially Hira Salman, who played the self absorbed Saba to perfection. We look forward to seeing Hira in more meaningful and sober characters in future. Even Hassan Ahmed, as the sleazy husband, acted well while we've seen Ushna Shah act better than this in the past.
Read: Junaid Khan, Hira Mani pair up for Danish Nawaz' family drama
Second episode was the saving grace
The story featuring Ayaz (Hammad Farooq) - a business failure - a step Dad (Alyy Khan) - who has a twisted mind - and Sara (Ayesha Omer) - the girlfriend. Ayaz is a spoilt brat who has one failed business after another, hence, he uses his girlfriend to woo his step Dad. Yes, he is that bad.
Story proceeds and we see the young duo plotting against the old man but he is sorted because, in the end, he has the model and the home on his side and Ayaz s left in a destitute state - financially and emotionally. Once again, the makers showed the girlfriend, who is an aspiring actress, too stereotypical as she ends up being wooed by money and power. And here we were thinking that Kitni Girhain Baqi Hain actually addressed taboos in a constructive way.
Although the story wasn't exactly mind blowing and we sort of knew what was coming, it was better than the first episode.
We'll see a new story every week with special appearances made by the likes of Nadia Hussain, Tooba Siddiqui, and Sonya Hussain to name a few.
The first season of Kitni Girhain Baqi Hain also aired on Indian channel, Zee Zindagi, and was narrated by Kirron Kher. The OST of current season has been penned by the famous writer Gulzar.
In the end, we are left wondering if compelling dialogues could've saved the inaugural episodes?