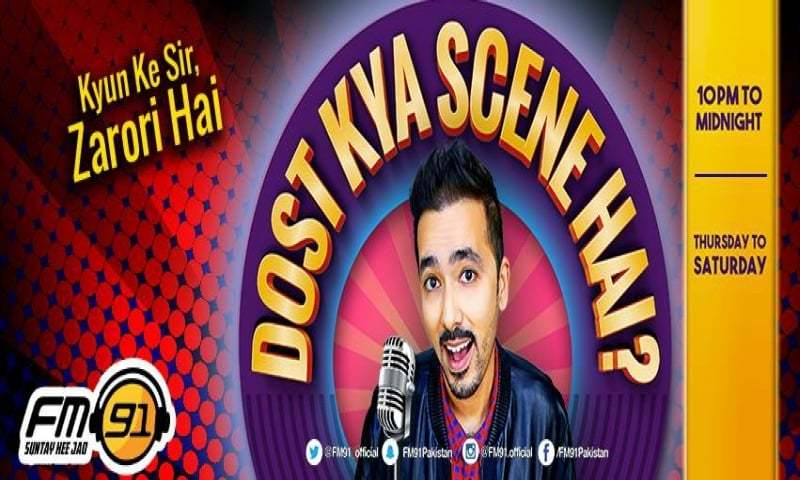 The king of 'chichora comedy' is back from London and is headed right back to FM 91 for a brand new show

When it comes to radio jockeys, Dino has definitely been one of the pioneer stars. His show on FM91 created a massive fan following but following his hiatus, it seems the RJ is now back to entertain us once again!
Dino had been living in London for the past 5 years, working for BBC World Service as a TV and radio presenter. On his Twitter page, you can see him rubbing shoulders with the likes of AR Rahman, Amitabh Bachan, Ali Zafar, Rahat Fateh Ali Khan, Kumar Sanu and many others. Always the common man's celebrity spotter, Dino has served us many a superstar in a platter through his shows.
After his time in London, Dino says it's great to be back in Karachi - a city he greatly missed.
"I'm a Karachi boy" he says, on FM91. "Sir, Zarori hai" and "Dost, kyaa scene hai" quickly became stock phrases among the young urban population of Pakistan, thanks to Dino. His style and humor were frequently imitated by novice RJs in search of a unique voice. But Dino calls his style 'chichora comedy', which is difficult to pull off because of its deceptive simplicity.
Since his days as the host of MTV Pakistan, Dino has been a much-talked about celebrity in his own right.
"I represent the middle class. I'm comfortable with both sides of the class divide. My audience is, essentially, half-and-half. That is probably why I have had success with the masses. In reality, I am just as comfortable at a dhaaba as I am at a posh coffee house." Seems like he didn't let the fame get to his head at all!
Dino's show seems to be an extension of his personality. He operates without a producer, and improvises with whatever catches his fancy. He uses the station staff to create new characters, each with a different twist. For this new show, there are some brand-new characters including Circuit, Droopy, Bruce Lee and Kulfi. And then there are some old, hugely popular characters such as Master Saab, Naaku, Jubilee, and Billi which will be making a comeback along with Dino himself.
"Dunyaa kii baatein, Kulfi ke saath" is a segment on the new show featuring the character Kulfi, who is a wide-eyed individual with innocent questions about the world around him. It will feature the absurd, with flashes of the informative. The segment will be in the trademark discursive style of Dino, with Kulfi as the object of Dino's humor.
The music segment 'naya item' will be the premiere of a new song on radio. Dino, over the years, has built a significant network within the music industry, both locally and globally. This gives him access to new, unreleased local, British, and Asian songs. In 'naya item', we can look forward to fresh content, played on FM91, before anyone hears it anywhere else.
The new show will be a version 2.0 of his previous shows because of a strong social media element. This will be a cross-media experience for Dino's fans. They will be able to listen to him on air, and interact with him on Facebook and Twitter, all the while watching him on live Facebook streams. The Facebook cam promises more than a conventional radio experience. It is essentially spillover entertainment.