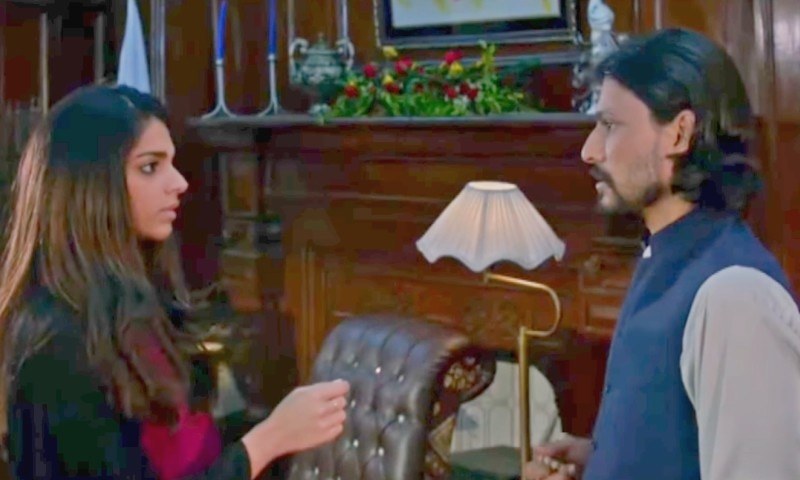 "When Shakespeare wrote the play, situation in England was similar to contemporary Muslim world," shares the Writer.

"Rahm or Mercy is in short supply everywhere around the world. We see only revenge and unforgiving and relentless violence," answers the Writer and Producer of Rahm, Mahmood Jamal, when we ask him what compelled him to make this film starring Sanam Saeed, Sajid Hassan, and in the lead. And if the cats doesn't impress you, then let's remind you that Rahm is an adaptation of Shakespeare's play, A Measure For Measure.
Set in Lahore, the under-hyped film caught our attention a while back when its trailer popped up on our social media and it was successful in sending a chill down our spine.
Read: Trailer Review: Sanam Saeed steals the show in Rahm
Apart from Saeed and Sajid Hasan, the films' cast includes Sunil Shanker, Nayyar Ejaz, Khalid Butt, Seerat Jaffri to name a few.
Ahmed Jamal – the Director of the film – and Mahmood Jamal have partnered with Urdu 1 and HKC entertainment as their media and distribution partner respectively. But why don't we see the pre-release frenzy which is all too necessary in this day and age?
We ask Mahmood Jamal all this and more during our little conversation.
First and foremost question, the film has been in the making for quite some time so when is it releasing?
The film is releasing on 18th November.
Will the masses be able to associate with the film or one has to read Measure For Measure to truly enjoy the film?
It is not necessary for anyone to read Measure for Measure to enjoy the film. The drama is about human values and the corruption of power. It is a story of a dreadful dilemma of a sister who is asked to sacrifice her honour to save her brother from being hanged.
This is both socially and politically relevant to Pakistan today and even those who have no idea of Shakespeare should enjoy the film.
What exactly compelled you to make a film based on this particular play by Shakespeare?
What compelled me to write/adapt this Shakespeare play is the sheer similarity between Shakespeare's England and what we may be going through today.
The medieval and modern history of Islam has been characterised by the battle between two dominant and opposing ideologies - one representing the puritanical, authoritarian, vital and is intensely idealistic, while the other is humanist, liberal, quietists and tolerant, and is best represented by Sufism.
Amazingly, these two opposing ideas of religious Puritanism and Intolerance on the one hand, and Mercy, Tolerance and Forgiveness on the other, are the subject of Shakespeare's Measure For Measure.
When Shakespeare wrote Measure for Measure, the historical situation in England was similar to that of the contemporary Muslim world – with the Puritans of Shakespeare's days finding their equivalent in the Islamists of today with their obsession with punishment and uniformity of belief, almost a suffocating denial of diversity; subjecting all to their literalist and juridical interpretation which denies the intrinsic tolerance and diversity of Islamic civilisation.
Shakespeare asks for mercy instead of punishment; his idea of justice is tempered with forgiveness and reconciliation. He celebrates diversity of belief and the possibility of human folly - Live and let live is his cry in this play.
So is the story of Rahm, which takes these themes and explores them in Lahore, Pakistan. Diversity in religious belief, justice for the powerless, forgiveness and reconciliation, peace in place of strife and a celebration of life in all its varied colours is the message of the film.
Read: Shakespeare Ka Lahori Chatkhara, Sanam Saeed's 'Rehm'
How did you select the cast because after looking at the trailer it is safe to say that everyone fits into their roles perfectly? Did Sanam Saeed and Sajid Hasan audition for their characters or you contacted them based on their previous performances?
Both Sanam and Sajid were contacted by the director Ahmed Jamal.
Ahmed Jamal, the director, knows Sanam personally as he is a close friend of her parents. Sajid Hasan was shown the script and being a serious actor, he loved it and agreed to be in the film. Famous Shakespearean actor in UK, Claire Bloom, when she saw Sajid in his role commented that he is a major talent. She also loves the film.
Since the film is releasing on the 18th, isn't it a bit worrisome that you don't have time for a proper promotional campaign and we can't deny that such campaigns have become a necessity these days. What's your take on it?
We are trying our best regarding the promotions, but of course, this being our first film release in Pakistan, we need to learn and we will. We have Urdu1 as our partners and we are relying on the goodwill of friends and HKC Entertainment – our distributors – to do the necessary.
Any parting message for the readers?
This film is not just for highbrow people. It is a blood and guts story that even the masses will enjoy, as it has all the elements of a family drama as well as the exploration of the fact that power corrupts in different ways and asks for Mercy and Forgiveness and Reconciliation. We are also releasing the film in the UK in February/March 2017 and are having a charity premiere in conjunction with a charity, The Graham Leyton Trust which is very active in Pakistan helping people.
That's all folks from the makers of Rahm and we are surely looking forward to the artsy film, but will the masses – who are notorious for their love for all things masala – make an effort to watch the film? We hope so.