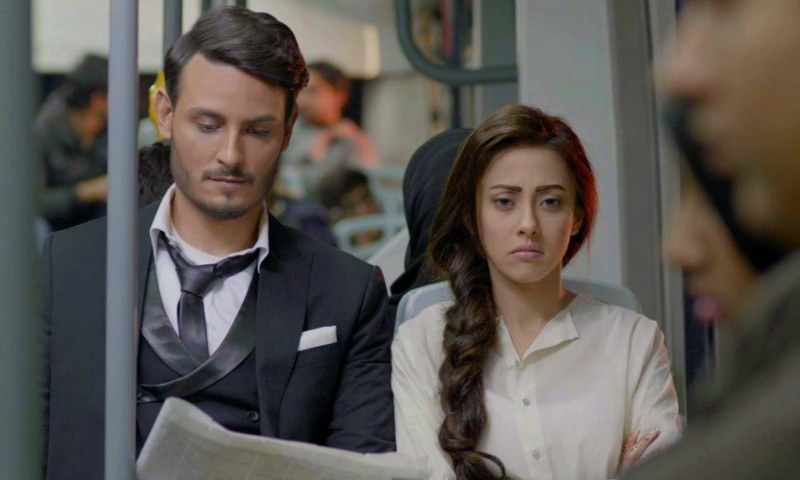 He looks like a man in control and she looks like a woman in distress; is Balu Mahi all about the old world romance?

The poster for Balu Mahi has been revealed at last! While we cannot get over the all too typical backdrop, we can (almost) vouch that Balu and Mahi will set the screen on fire, especially when Osman Khalid Butt's look in his debut film is quite similar to his all-time successful role of Wali. Butt stole hearts with his intense expressions and shawls - since they add that old world charm and drama to the proceedings - in Diyar-e-Dil and he (and the shawls) might do it again in Balu Mahi.
Ainy Jaffri, on the other hand, looks like a damsel in distress. But it looks like her expressions have faltered in this poster only, because in the film, Mahi is a strong girl who gives Balu a run for his money.
"Mahi is amazing. She evokes awe and respect. She's tough, goal driven, full of raw energy and emotions that are extremely infectious and suck you into her world. She's brutally honest and absolutely fearless," Jaffri earlier shared in an interview with HIP.
Is the poster a rip off of Bajirao Mastani?
Even though the movie might be promising, we can't help but notice the similarities between Balu Mahi's poster and the posters of Hum Dil De Chuke Sanam. Our suspicion was confirmed by Galaxy Lollywood, who pointed the uncanny resemblance between the two posters with visual proof.
With creative people like Sadia Jabbar and Haissam Hussain at the helm of affairs, we didn't expect this from the team. It is a bit of a dampener, really.
Balu Mahi releasing on 10th February
It seems like the makers wanted to sort your Valentine's Dates out because in another very important news, Sadia Jabbar and Chaudhry Muhammad Arshad's production is all set to release on February 10th next year.
Read: Up close and personal, with Balu Mahi's Ainy Jaffri!
Directed by the maker of Dastaan, Aun Zara and many more hit drama serials, Hassam Hussain, the film is shot in Pakistan and its music is done by Sahir Ali Bagga.
Voice modulation training by Nadia Jamil, special appearance of Rahat Fateh Ali Khan, and acting debut of famous model, Sadaf Kanwal - all these facts make Balu Mahi one of the most anticipated films of the season. And yes, how can we forget the stunning BTS images shared by the team, which by the way are way better than the official poster.
Read: Second spell of Haissam Hussain's Balu Mahi wraps up in Hunza
Earlier, Sadaf Kanwal told us that Balu Mahi is a coming of age romantic film and she plays the "twist in the tale" while Butt shared that "Bilal AKA Balu, appears initially to be a very reserved, humorless character but is, in fact, quite layered."
We like the sound of their characters and we know Haissam Hussain is capable of creating magic on screen, so our Valentine's date is sorted with Balu and Mahi.