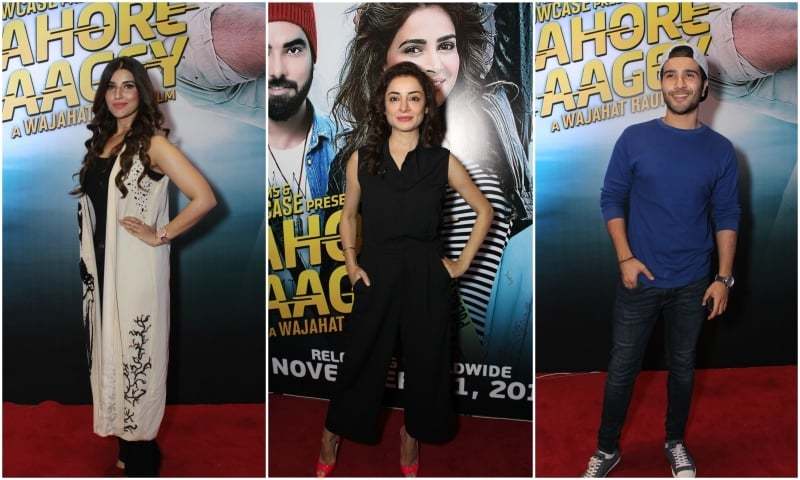 HIP covers the best and worst outfits on the red carpet of the Lahore Se Aagey premiere.

Whether it's fashion week, a launch event, or a movie premiere, we always have our eyes on which celebrity is wearing what. After all, the trendsetting stars are our inspiration on how we can spruce up our wardrobe! This week, the event that turned out to be a star-studded affair, was the premiere of the Saba Qamar and Yasir Hussain starrer, Lahore Se Aagey, in Karachi. While there were a few names who brought a style quotient to the red carpet, there were others whose apparel was a major faux pas.
Here's a HIP look at the celebs whose fashion statements left an imprint on our mind, and those whose attire made us cringe.
Best dressed
Saba Qamar
The lead actress of the movie, who blew everyone away with her dance moves in 'Kalabaaz Dil', was of course, dressed the best! Adorned in a beautiful black chiffon saree with white embroidery, Saba Qamar ended up looking sophisticated and gorgeous. Her Zainab Chottani saree has given us style goals for future wedding events. However, the makeup look could have been done better. A brighter lipstick next time maybe?
Tooba Siddiqui and Adeel Hussain
Stars of the upcoming movie Dobara Phir Se, the actors brought their style game to the red carpet. Wearing a creation by HSY, Siddiqui looked like the epitome of class in black. Hussain. on the other hand, looked dapper in a sleek black jacket over a t-shirt. Tooba's jewelry, clutch, and straight hair of course, further complimented her look.
Sarwat Gilani
You can never go wrong with black, and Sarwat Gilani's outfit proves just that. Sporting a trendy jumpsuit, the actress's looks simple yet chic. Also, the red shoes create a contrast that is quite the fashion statement nowadays. We do wish Gilani was carrying a red handbag to complete the black and red contrast look, though.
Frieha Altaf
One of the divas of PR in Pakistan,Frieha Altaf was dressed to impress and surely received envious glares from some at the red carpet. Wearing black pants with a white top with layers and cuts, the former model looked funky and vivacious. The pink statement necklace further made the outfit pop.
Hareem Farooq
All dolled up in the So Kamal classic contrast of black and white, Hareem looked as gorgeous as ever. Topping off the eastern and western fusion was the curly hair-do that gave the actress a delicate look. We still don't understand the maroon shoes in the mix however.
Worst dressed
Feroze Khan
Although the actor has quite a long list of female admirers, we doubt anyone would give a thumbs-up for this look! Perhaps, Feroze was on his way to watch a baseball game and ended up at the red carpet by mistake. Maybe this look would work for casual meet ups, but is definitely a fail for the red carpet of an event. Besides, if all the female celebs present at the event spent hours in the salon getting their hair and makeup done, the least Khan could have done was pick out a nice shirt.
Anoushey Ashraf
After overdressing for the FPW red carpet, Anushey went ahead and took things down a few notches at this event. Unfortunately, the actress looks way too casual. Not only does her outfit lack a fashion sense, the dearth of makeup on her face is quite evident. The hair, on the other hand, looks quite drab too. We love you Anoushey, hence we look up to you and the style you sport and this outfit will certainly leave your fans disappointed!
Rubab
Whether her leggings are a tad too tight, or her top is too short and glittery, we just can't place our finger on what went wrong. The makeup, with the abundance of eyeshadow, is a complete fail too! And don't even get us started on the handbag! Sorry Rubab, but this look is a faux pas.
Ayesha Omer
The actress from Karachi Se Lahore, the venture that led to Lahore Se Aagey, always looks superb at events. However, Omer failed to make a mark this time with a frilly olive green top and blue jeans. The sandals and the bag further added a casual look to the outfit. Overall, her wardrobe at this event was something we wouldn't want to write home about.
Anum Gohar
The model and wife of Jal singer Gauhar Mumtaz, who is often the belle of the ball, couldn't do much even though her looks had us smitten! A dress always looks better when paired with tights or leggings, Anum. At least, that's a must fashion rule to follow at the red carpet.