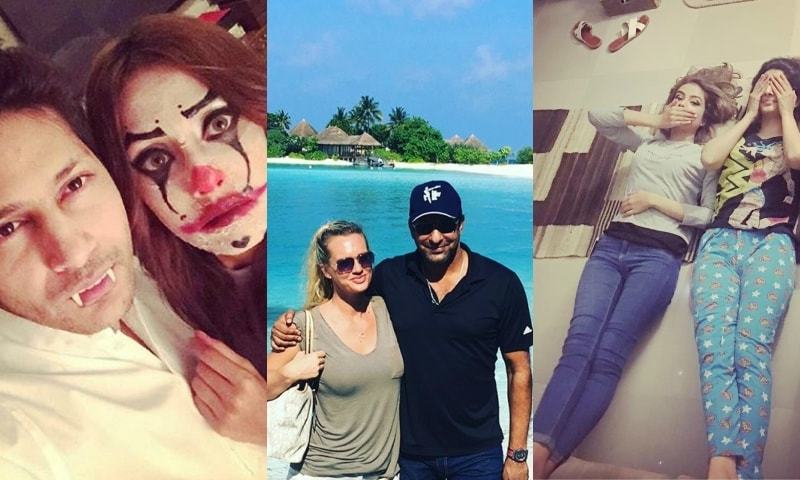 This week regulars like Mawra made it to the list alongside new names like Shaniera, Obi and Ainy Jafferi!

Our celebrities never fail to leave us impressed with their unique and galvanizing Instagram posts. Whether it be their fashion statements of the day, or their candid pictures that leave us in awe, these stars always find a way to keep their followers updated. Missed out on all that happened in the lives of your favourite superstars this week? HIP will help you catch up. Here are the top 5 celeb Instagram posts that totally spoke to us!
1) Mawra Hocane:
Mawra, who is highly active on instagram, always has somthing fun in store for her fans. This week was no less as Hocane had a lot going on. Luckily, she was keen to share her private moments with all her followers. The cutest picture of the week was probably Mawra with her bestie Alizeh Gobal, both sharing a silly yet fun moment together. The post is a perfect example of just the kind of thing anyone without a star status would do during a hangout with their best friend. We just love the simplicity in your posts Mawra!
2) Sanam Saeed:
Sanam Saeed, the diva who is busy with promotions for her new film Dobara Phir Se, has been quite active on instgram too. Amongst an array of posts about her outifts and different looks on Instagram, the picture that stood out was the group photo taken with the rest of the cast. The carefree attitude of the cast in the click is just oh-so-adorable!
3) Ainy Jaffri Rahman:
Ainy Jaffri took on instagram to express her love for her husband in the scariest possible way! While other couples post pictures of them posing all dolled up, Jaffri gave us something new to talk about by posting a picture from Halloween. Ainy Jaffri is dressed like a clown, while her husband is a vampire. What a scary yet endearing picture!
4) Shaniera Akram:
Shaniera Akram is the latest addition to the list, but after viewing her current posts we just had to make an exception this week. The delightful picture she posted with her hubby Wasim Akram on vacation, definitely gave us relationship goals. The two just look so wonderful together, relaxing in front of a beach in Maldives.
5) Osman Khalid Butt
Last but not least comes Obi and his posts! Osman Khalid Butt is the king of quirky captions that leave us laughing. This time however, he posted something really interesting: A viral challenge! The mannequin challenege has been going around all over the internet and it is sure as hell amazing to watch. Obi's friends welcomed him in a unique way and he was quick to share it with us on Instgram. Plus 1 for creatvity!
Finding the top 5 Instagram posts every week has always been our greatest pleasure, so stay tuned to catch up on everything your favourite celebrities have been doing!