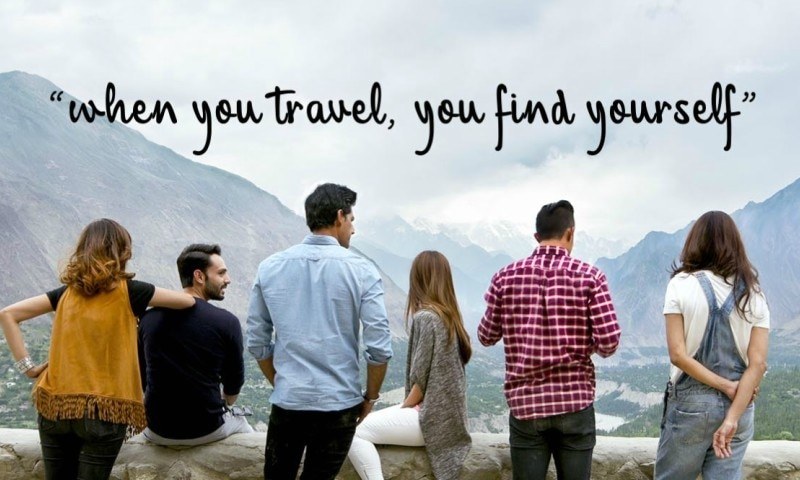 If the teaser is anything to go by, Chalay Thay Saath will be one trend-setting film for our industry.

It was a wintry afternoon when we entered a cozy yet spacious hall to attend the press conference of the upcoming film, Chalay Thay Saath. The attendees were soon shaken out of the misconception when the Executive Producer, Sheikh Shiraz Mubashir, boomed, "Welcome to the exclusive teaser preview of Chalay Thay Saath!" Pens were tucked away and necks, of all the journalists and bloggers present at the event, swiveled in unison towards the opposite side of the room which hosted a mid-sized screen, anticipating the teaser to appear any moment. The screen remained blank. And the audience turned back towards the cast and crew which sat there smiling assuredly.
They had successfully managed to pique our interest.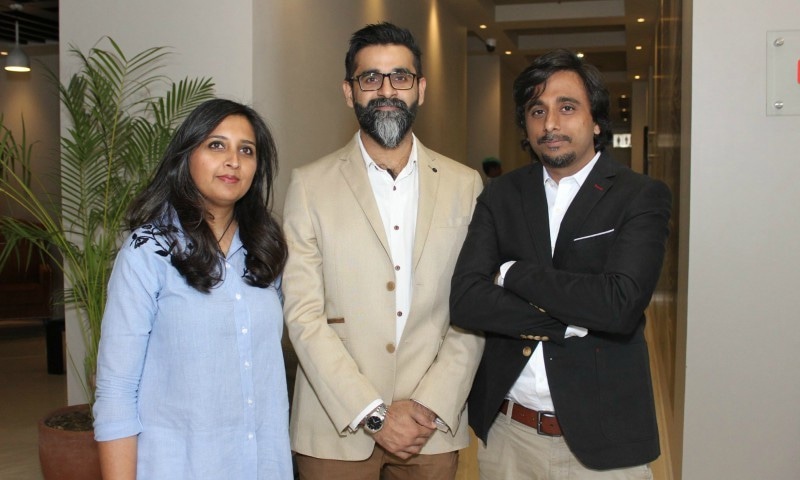 Mubashir continued to tell us about the romantic drama/comedy (as the director and writer, Umer Adil, likes to put it) while Mansha Pansha, Zhalay Sarhadi, Shameem Hilaly, and Osama Tahir nodded encouragingly. At this point, you must be wondering, "What about Syra Shahroze and Kent S Leung?" Well, Syra came towards the end of the exclusive preview, hence, missed the chance to interact with journalists and we have a strong feeling that International actor, Leung, will have his own 'exclusive preview'.
The film, which has an ensemble cast consisting of Syra Shahroz, Kent S. Leung, Osama Tahir, Mansha Pasha, Zhalay Sarhadi, Behroze Sabzwari, Faris Khalid, and Shameem Hilaly, can be expected to bring in a fresh narrative at a time when hackneyed narratives are bringing the film-related intelligence quotient down.
Read: HIP Exclusive: Kent S. Leung talks about his Pakistani debut with Chalay Thay Saath
Moving on, let's have a look at seven things we got to know about Chalay Thay Saath during the exclusive preview.
The film is not just about the road trip
After seeing the teaser, one might feel that the film revolves around a road trip of four friends - (Mansha Pasha, Syra Shahroz, Faris Khalid, and Osama Tahir) - but the makers assured that there is more to CTS than what meets the eye, such as Zhalay Sarhadi, whose character in the film has us intrigued as not much about her has been released. Time and (trailers) will tell, we're guessing!
"CTS features a road trip, yes, but more importantly it introduces you to the culture of Gilgit-Baltistan, a love story, and friendship," shared the director and producer, Umer Adil. "It is a unique Pakistani film and it explores different relationships. Hopefully, the audience will love it."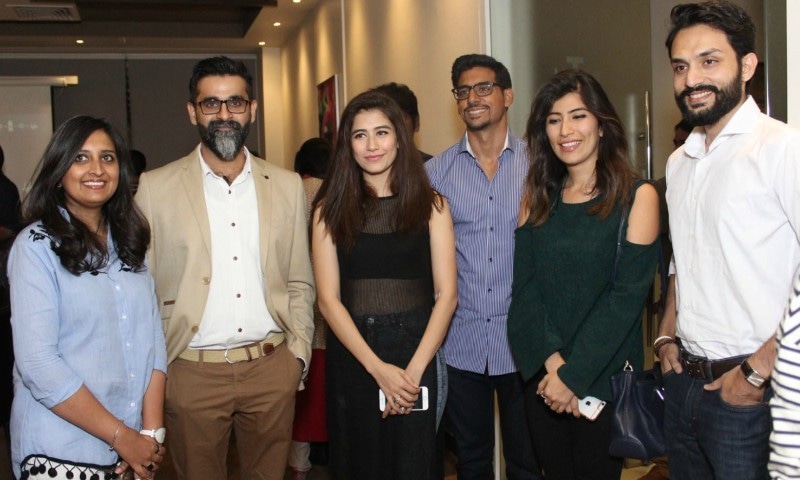 While speaking about their 70-40 day stay in Gilgit-Baltistan, Zhalay Sarhadi said, "We didn't face any issue during the shoot and it's a misconception [that the people are unaccepting and there are security issues]. People were very hospitable. If we needed water or anything during the shoot, we could just knock on any door and we got what we wanted."
Read: Syra Shahroz's debut film 'Chalay Thay Saath' is about finding love
An unconventional love story
The love story of Kent and Syra's characters is an essential part of CTS and we say it's unconventional because he is a Chinese guy. While we've often seen films show desi girls/boys fall for goras - they usually belong to first world countries like America or England. This will be the first time that we'll see a Pak-China love story and this sounds promising.
Don't worry, you won't be bombarded with subtitles because Shamim Hilaly was kind enough to confirm, "Thankfully, Kent knows English warna masla hojata."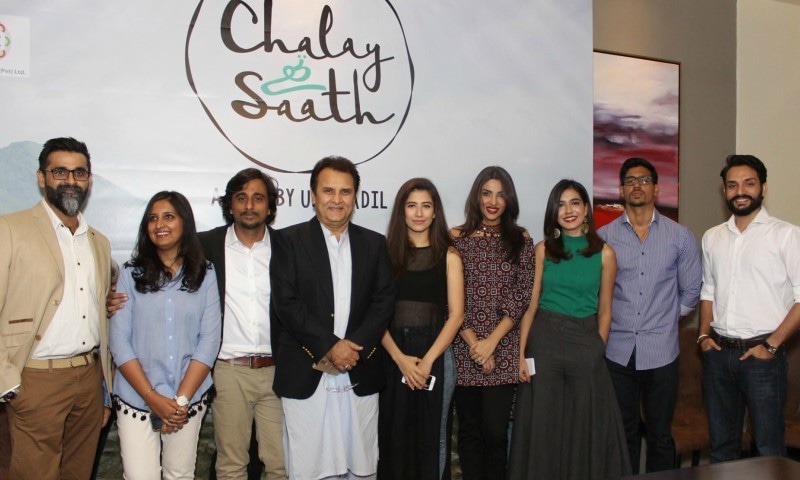 Focuses on Pak-China friendship
From Pak-China love story, let's move to the friendship between the two countries, which is often under-rated.
"We've seen films that highlight our relationship with the US and even Afghanistan, but we wanted to focus on Pakistan and China's relationship," the director explained.
We often take our friends for granted and this is probably what Pakistan has been doing with China so far, but CTS will change that. This, however, doesn't mean that the movie is an ISPR-funded project, but yes, the ISPR was informed about the project.
Read: In conversation with the makers of Chalay Thay Saath
CTS will give an identity to Pakistani cinema: Director
CTS is a Romantic drama slash comedy and highlights the truer side of Pakistan.
"Once you watch the film, you'll notice that it isn't inspired by any foreign film," the director promised while answering a question about why he decided to make a film. "Recently, you must've seen that our films are influenced by certain international films so we decided it's better to develop something of our own instead of taking inspiration from them."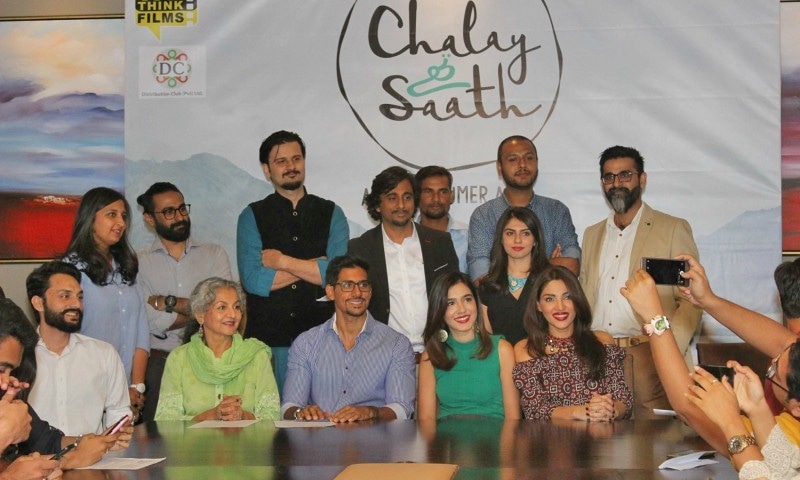 That takes us to one of the most widely used 'foreign element' in our film making: The item number!
Chalay Thay Saath has no item number
Now this piece of information might disappoint a few, but for film enthusiasts, who want Pakistani cinema to have its own identity, it comes as a welcome respite.
"It is a pure family film which a sister can see with her brother without getting awkward," the Executive Producer shared happily. "Also, I'd like to add that it has no item number."
This piece of news was welcomed with a tumultuous applause and veteran actress, Shamim Hilaly, was quick to add the reason behind the decision, "Item numbers are incorporated for added attraction and our film doesn't need that. It's good enough without it."
That's the confidence we need from our makers!
However, Mansha Pasha hinted towards something special when she said, "But Faris is doing a solo item number so watch out for that!"
Read: HIP Exclusive: "Chalay thay saath is a very relatable story," says Osama Tahir
CTS is a story of four friends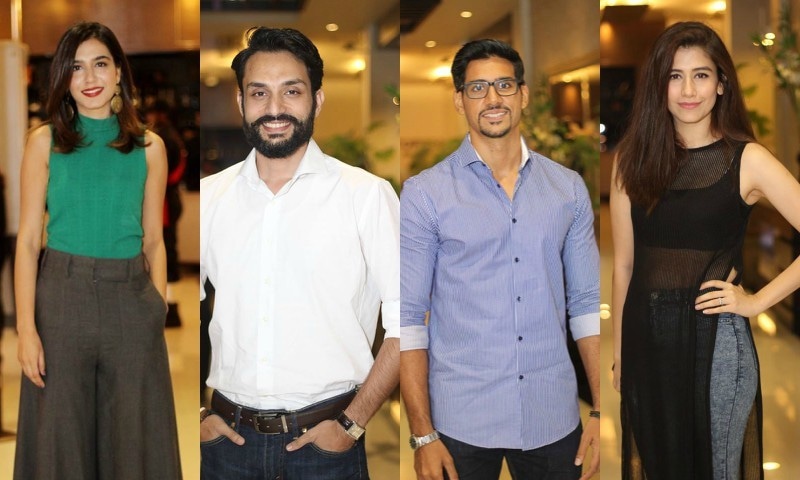 The teaser, which you will see in a few days, shared that it is a story of four friends. They embark on a journey to Skardu where they are joined by Shamim Hilaly's character. The character played by Faris is especially disgruntled when he finds out that an elderly woman is going to be part of their road trip.
Why is she there? How does she become part of their group? And when and how does Kent S. Leung become part of the proceedings? We'll see all that and more when the film releases.
Umer Adil had decided the cast when he was writing the script
"Every character was written with a certain actor in mind and thankfully, all of them agreed to be part of the film," the writer and director revealed when asked how did they decide on the cast.
The makers shared that all actors have done justice to their roles and that's primarily because the characterisation was done with these specific actors in mind.
---
The film releases in the first quarter of 2017 and will be distributed by IMGC (DC) distributors.
Unfortunately, we cannot share the teaser with you since the makers want to keep it a secret for a few days. All we can say is that we agreed with Hilaly wholeheartedly when she protested, "It ended too soon!" at the end of the teaser preview.