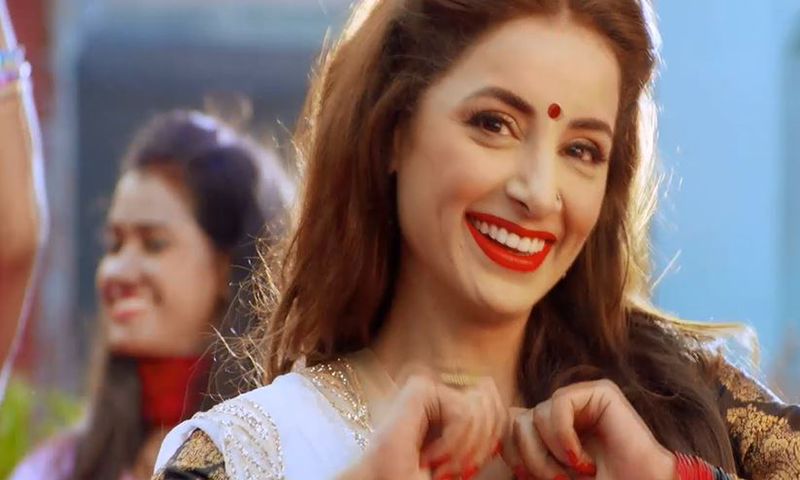 The Pakistani flag is green and white; the green represents the Muslim majority in the country while the white stripe represents minority religions. Focusing on the country's policy of establishing cordial relations with minorities, TV One brings you Seeta Bagri – The story of a Hindu girl. The trials and triumphs she encounters in her daily life and how her Muslim friends support her in the time of need.
Although many had questions regarding the venture that revolves around a minority that is not talked about openly and often compared to 'Indians' than their religion, TVONE held a blogger night for Seeta Bagri to clear everyone's concerns.
"They choose to make Pakistan their home, Christians, Parsis, Hindus, they chose to stay back. They're actually Pakistani, they're fellow countrymen. But we think of them as not one of us, and we can't seem to rise above that. And this is the first time a story about a Pakistani Hindu family is going on air" , said Shehwar Rahim.
Character Reveal: All of Seeta Bagri's characters offer something different!
Encapsulating the Hindu culture through the juxtaposition of colours with traditions, the show's trailer has managed to capture the reality in a beautiful and creative manner. The story mainly revolves around a Hindu family with just a few Muslim characters. It is shown that Hindus and Muslims can happily coexist in Pakistan, which, of course, is a positive message that they plan on giving to the world.
Introducing the Holi song as an amuse-bouche for the show that will air from 17th November on TVOne, it surely gives us hope that we'd get to see some perfect representations on our television screens!
Coming back to the event, it seemed like a blogger's paradise, as the celebs and the makers of the show made sure no question is left unanswered. Thus, when a blogger asked that wouldn't it be misleading since minorities aren't really given that sense of equality, Rahim answered,
"That's the change we want to bring."
Speaking about the show, Adnan Siddiqui said it's his responsibility as a celebrity to highlight their issues and their existence in Pakistan. Hence, the story is really close to his heart and he's glad TVONE and the entire Seeta Bagri team had faith in his TV production debut.
Another blogger asked Siddiqui if PEMRA would approve of the exchange in talent since he has roped in Sukhwinder Singh to voice and Sajid-Wajid to compose the OST of Seeta Bagri.
To which, the actor replied,
"It's only trade and nothing more, we gave them our original concept, while they gave us the final product."
He also gave an interesting scoop on how shocked Singh's reaction was to a song being made on Seeta in Pakistan. Yes, that's the reason this is the best time to probably release a drama that promotes more peace than hate.
"Just delay this for two months so you don't get a backlash due to the current Indo-Pak tension", suggested another.
Shehwar Rahim replied, "But why? Not once did we mention Indians or India, did we? We're talking about our own countrymen. Pakistani Hindus are our own and have nothing to do with India or the ongoing tension."
Sarwat Gilani, who plays Seeta in the drama also requested everyone to watch the drama with an open mind and heart, as It is an extraordinary production setting new standards with an intriguing story, terrific music, and spellbinding performances.
Colours and Traditions: Sarwat Gilani opens up about Seeta Bagri
With an ensemble cast of Bushra Ansari, Sarwat Gilani, Hasan Niazi, Qavi Khan and Syed Jibran, Seeta Bagri promises compelling reasons to watch the show, which is all set to bring in a new narrative in between the plethora of hackneyed plots that have surely made us switch channels ASAP!