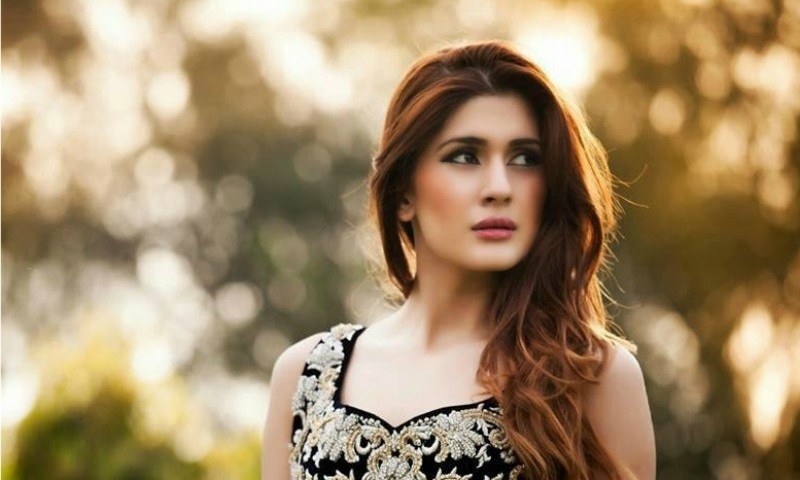 The actress who loves chocolate cake is a die-hard Chris Hemsworth fan, as she reveals to HIP!

Making her acting debut in 2014 with Nabeel Qureshi's debut super-hit, Na Maloom Afraad, along -side Fahad Mustafa, the London-based model turned actress, Kubra Khan, turned heads as soon as she became part of the Pakistani media industry. After all, with her natural charisma and a killer smile, she quickly made a place for herself in the hearts of her numerous fans, who couldn't get enough of her! However, going from gracing the cover of a few magazines to suddenly taking a sabbatical from the scene for two years, the actress' disappearance raised questions. But, now with Sange Mar Mar and Khuda Aur Mohabbat 2, on her plate, the actress seems to be returning with a bang!
Candidly replying to these 20 questions, Khan and HIP had a rapid fire of epic proportions, and we're sure you wouldn't want to miss out on this!
Read : 'Na Maloom Afraad' fame Kübra Khan is back!
What are the three things, which you simply cannot live without?
Kubra Khan: Chocolate cake, Play station and definitely my phone!
A song stuck in your head these days?
KK: These days I can't get enough of Star boy by The Weekend.
One actor or actress with whom you would love to work with?
KK: If ever I get a chance then it has to be with Chris Hemsworth, I'm a die-hard fan of his.
Major Turn-Offs?
KK: It has to be disrespect, it is wrong to be rude or disrespectful towards anyone whether they are above or below you or even older or younger than you .This is one quality which immediately puts me off from a person.
Who is your biggest inspiration?
KK: My mother and sister.
Read : Kubra Khan set to star in Javed Sheikh's Wujood
Which branded bag is your favorite, Michael Kors or Louis Vuitton?
KK: Louis Vuitton
Describe yourself in three words.
KK: I am loving, caring and extremely hard working.
What was the name of the Last book you read
KK: 40 Rules of Love by Elif Shafak.
Who is your favorite co-actor?
KK: Imran Abbas and Mohsin Abbas Haider .
Favorite perfume?
KK: Chanel Chance, Cerruti 1881 and Ralph Lauren Romance.
Chinese food or Pakistani?
KK: Pakistani for me all the way.
Are you a night owl or a morning person
KK: Night Owl.
If you had one super power what would it be?
KK: To be able to rewind time.
One word which you use the most?
KK: "Smexie."
If you could wear one color all day, what would it be?
KK: Emerald Green
Do you have a nickname?
KK: Yes, I have three would you believe it? Koobie , Kubz and Cube!
Favorite city?
KK: London (no surprise there).
How did Na Maloom Afraad happen?
KK: What a coincidence that I'm being asked this today because I was speaking to Nabeel the other day and he said he found me on Facebook and when he looked into it more he found out that I was in the industry. We got in touch, did few auditions and the next thing I knew I was shooting the movie here. I could never express my gratitude enough towards Nabeel for making me be a part of Na Maloom Afraad.
Read: Sange Mar Mar is not just Shireen & Aurang's love story
What do you personally love about Sange Mar Mar?
KK: I love the simplicity of how it has been portrait. There is no fancy lighting or direction, the beauty of the play lies in its simple storytelling technique which I feel is what drawing the audiences towards it.
What is next for Kubra Khan, the actress?
KK: Well, currently I am working on an ARY project which is for BigBang entertainment and it is called Muqabil. Besides that, I have few more interesting scripts lined up in the year to come.
So, there you have it guys , a fun interactive session with Kubra Khan who has just given us the good news that she won't be disappearing anytime soon!