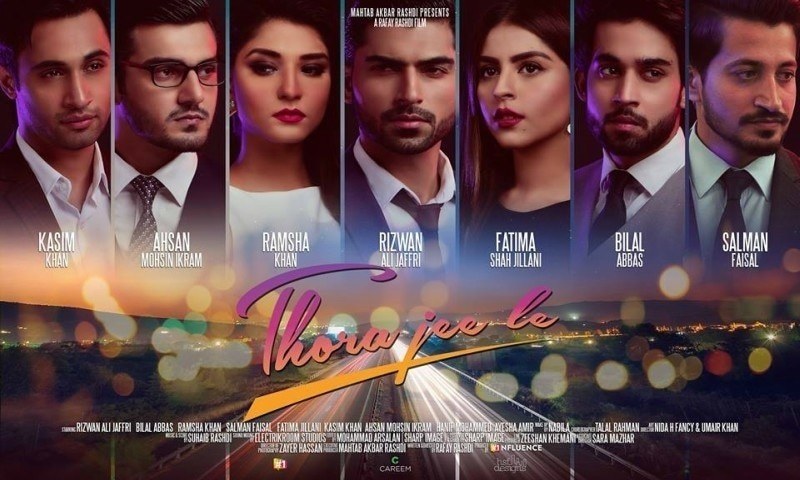 With a majority of new faces being launched in the film, Thora Jee Le looks like an interesting experiment.

With an array of films finally releasing in Pakistan, varying from shoestring budgets to multi-million rupee projects, the film industry has seen its fair share of ebb and flow in the successes it has given this year. However, while some of those narratives focused on their galvanizing star powers, others worked because of their stories. One such example of an upcoming film solely focusing on introducing new faces with the help of a seemingly solid story is Mehtab Rashdi's Thora Jee Le.
While HIP had previously reported about its post-production stage, the trailer for the film has finally been released and it has left us with mixed feelings.
READ: Thora Jee Le enters post-production
Narrating a coming-of-age story set in the metropolitan, the trailer takes one on a journey of six friends, where old flames meet new problems, and past stories are rekindled with friendships in the milieu. All set to a pace of narration in the background, the two-minute long video questions whether the past should be left there, or perhaps, visiting memories is what gives life its meaning.
Although the narrative for the film seems strong if we judge it from the trailer, one cannot help but notice the very film-school 101 style of its aesthetics, which seems akin to student undergrad films. That being said, full points on creating a fresh storyline that caters to the younger crowd of the nation.
READ: Rizwan Ali Jaffri set to make his debut with Thora Jee Le
Starring debutants Bilal Abbas, Kasim Khan, Fatima Shah Jillani, Ramsha Khan, Salman Faisal and Ahsan Mohsin Ikram alongside 'Lux Style Award' winner model-turned-actor-turned-singer, Rizwan Ali Jaffri, in lead roles, the film is all set to take us on an excursion of reminiscences, and we can't wait!
Check out the trailer and tell us what you think the comments section below.