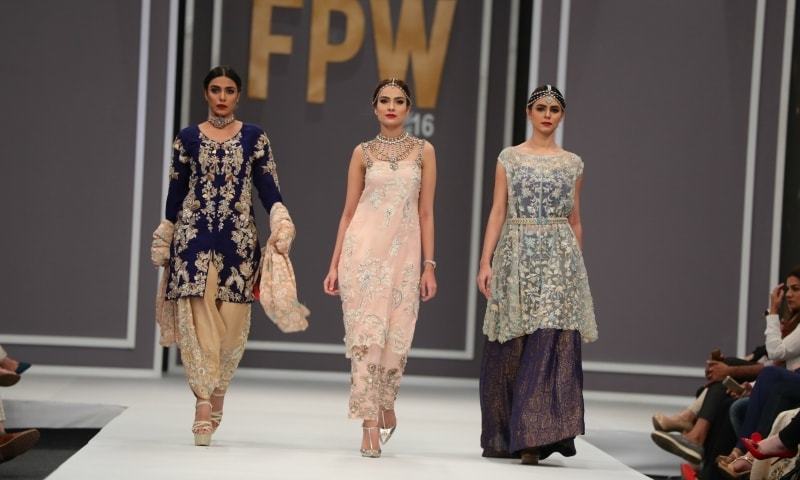 The collection 'Midnight garden' comprised of eastern wear and included outfits with intricate embroidery and sequins

While FnkAsia by Huma Adnan has always managed to remain a leading prêt brand in Pakistan, it seems it is all set to reign the world with its latest collection. With the latest collection called Midnight Garden –which showcased at the Fashion Pakistan Week Winter Festive 2016 in Karachi, the talented designer, and her husband, men's fashion extraordinaire, Amir Adnan, showcased their collection at the charity DIL Gala of life event in San Francisco.
At the gala, DIL San Francisco hosted Fnkasia and Amir Adnan for a showcase to raise funds for charity. The models walked in the latest collection all the way from Pakistan, and truly the showcase stayed true to the vibe FnkAsia usually follows, with their bright colours, traditional designs, and modern cut works.
"We were invited by the president DIL to showcase progressive Pakistani fashion trends of both men and women," Huma Adnan told HIP. "It was a wonderful experience meeting a set of Pakistanis who were so dedicated towards giving back to the country relentlessly. It was interesting to see not just Pakistanis abroad raising fund, but also Americans Indians and other nationalities who look beyond geographical boundaries and serve humanity," Huma told HIP.
While the brand has experimented with dark colours this season and managed to create an amalgamation of outfits that were pleasing to the eye. The collection was unconventional and hip, and we can surely say it was perfect for those who want to create their own style statement.