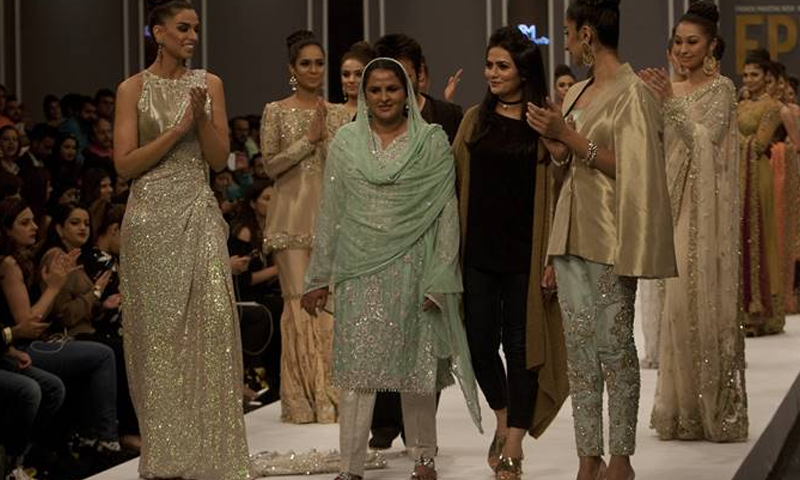 "Ajj udaas hai sham tu kiya howa? Kal sehar ki roshni main ma behan betiyun ko pehchana jaye ga", believes Mukhtar Mai.

Mukhtar Mai, a woman who was gang-raped and paraded naked in public on the orders of her tribe's elders is a symbol of courage for women not only in Pakistan but all around the globe. While most would've committed suicide and broken down, she defied the norm and stood up not only for herself, but millions who would never speak up otherwise. Adding to her efforts towards women empowerment, Rozina Munib dedicated her Zindagi k Rung collection to this powerful woman. Mai walked the ramp proud and tall because it's the society that needs to be ashamed, not her.
A gang rape survivor made for the perfect showstopper who truly stole the show as she walked the ramp for designer Rozina Munib at Fashion Pakistan Week 2016.
How did the world react to Mukhtaran Mai's ramp walk
Soft pastel colours being the focus of this collection, comfortable cuts blended with elegant and rich fabrics made Rozina Munib's collection titled Zindagi k Rung.
The struggles and traumas that a woman has to face on a daily basis are unimaginable which is why Rozina Munib thought of dedicating this collection to the beautiful women who come from different walks of life. And when she thinks of courageous women, there's one name that comes to her mind is Mukhtar Mai. She is a woman who has survived despite the odds. Hence, the dedication!
Mukhtar Mai is an inspiration and example of true strength
Like Rozina said, "If you have a mishap, it's not the end of life." Far from destroying her, as her attackers would have expected, the incident made Mai determined to fight.
She is not a victim, she's a hero; a brave activist for women's rights. She started the Mukhtar Mai Welfare Organisation to support and impart education to the women and girls of Pakistan and has received international recognition.
Mukhtar Mai Women's Organization envisions an equal opportunity society where men and women are treated equally and are able to exercise their civil, political, social, economic and cultural rights. Not only this, but the organisation is committed to working against all forms of violence and discrimination against women and aspires to bring about positive and lasting change by provisions of services that promotes economic, social and cultural empowerment.
Stand for a greater commitment to society, stand for women empowerment in Pakistan!
Rozina Munib along with celebrities ask for your support and donations in order to educate and empower women. This is an initiative by Catwalk event management that we all need to take forward.