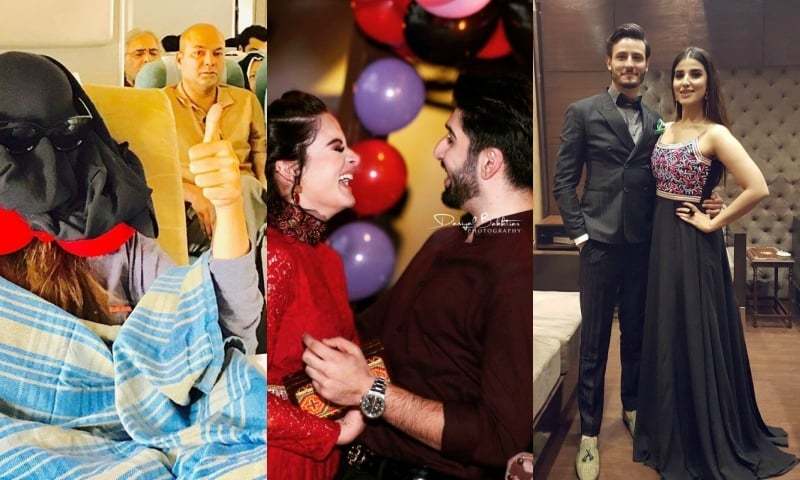 We can never get enough of the social media obsession and thanks to our celebs, it's always fun and exciting!

Every week our favourite celebs give us a little glimpse into their private lives through social media. So we keep a close check and religiously follow them to stay as much connected as we can. It is as if we can never get enough of this obsession and thanks to our celebs,the stalking is always fun and exciting! This week a lot has been happening in their lives and we are here to bring you the top 5 Insta posts of the week that caught our attention.
1) Hareem Farooq
Hareem Farooq showed us her fun side in a casual Instagram post where she's done flying back and forth from one destination to another promoting Dobara Phir Se. We truly feel for Hareem and the hectic routine, but this post has us laughing like retarded seals! Too cute!
2) Osman Khalid Butt
We would be lying if we said OKB isn't the King of captions! Be it sentimental or comic, the funnyman can definitely make every Instagram post a hundred times better. In his latest posts, he showed his appreciation for the gorgeous lady, Hareem Farooq and left us all 'aww-ing'!
Gotta love the expressions in this one!
3) Aiman Khan
Our favourite twins, Aiman and Minal Khan celebrated their 18th birthday this week and bombarded us with pictures. Oh, and we're not complaining at all! In one picture, Aiman can be seen through the lights and confetti with bae, Muneeb Butt, and we're loving it!
Also, how could we skip this beautiful candid moment!
4) Mawra Hocane
And how can any Insta posts story be complete without the queen of Instagram-Mawra Hocane? This week Mawra shared a lovely picture with her sister, Urwa and mother that explained where the girls get their good looks from!
5) Ahmad Ali Butt
Comedian and actor, Ahmad Ali Butt takes a group selfie with the cast of Punjab Nahi Jaongi. The picture includes faces like Mehwish Hayat and Urwa Hocane and we can't wait for more behind-the-scenes pictures!
So here's the roundup of this week's top Instagram posts . Stay tuned for more next week!