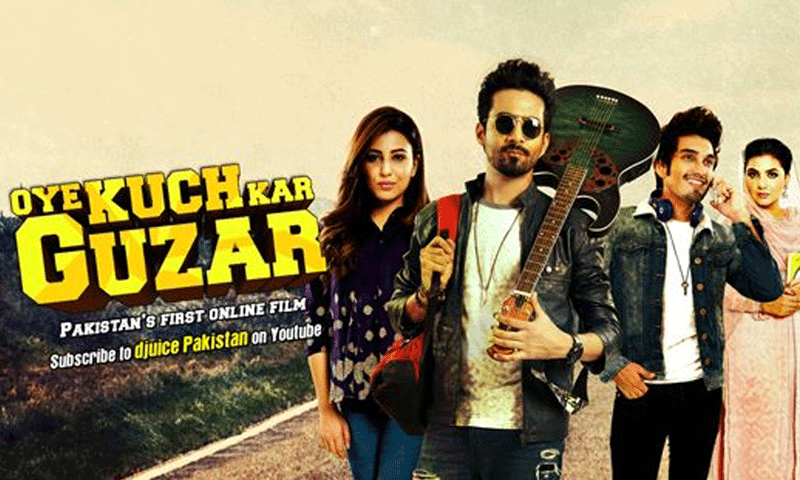 djuice Pakistan takes a step further into the world of digital communication with 'Oye! Kuch Kar Guzar'

Gone are the days when one had to buy a ticket and then wait impatiently until there were seats available in the cinema. Now all you need is a good internet connection and youtube to enjoy the movie right there in the comfort of your bedroom! Yes, you read that right! Pakistan's first online movie Oye! Kuch Kar Guzar stars Ali Safina, Uzair Jaswal, Ushna Shah, Mahjabeen Habib & Nayyar Ejaz.
The trailer has been released and the movie looks like it is going to be a whirlwind of romance, suspense & adventure all wrapped in one. It is said to be an experience like never before.
Watch the trailer below:
HIP got in touch with the two handsome leads of the movie and found out what they think about this new initiative.
Uzair Jaswal revealed, "Oye! Kuch Kar Guzar revolves around the taboos of society and how you should follow your heart and do what you aspire to do. It's linked to a youthful brand, djuice Pakistan. Youth is connected to the internet all the time, so it's probably the best medium through which we can connect to a mass audience."
"It's the first online movie so let's see how it goes. Despite the risk involved, it looks like a good investment and a step towards the future," he further added.
Ali Safina had similar views about this new and exciting venture. "It's a great opportunity! It's going to be a global thing and will not just be releasing in selected cinemas, in just a number of countries. TV is going to be obsolete and Youtube is the future," he told HIP
"Everyone needs to chill out and just connect to the internet. It's a movie with an interactive medium. You have access to it on your very own cellphone, all you need is a good connection. "
Revealing a little about the story, Ali Safina added, " Oye! Kuch Kar Guzar revolves around my character Sherry who I can totally relate to. Sherry's ambition to be a singer takes him to the most unforgettable journey of his life and his struggles are somewhat similar to my own. In him, I see how I was during my struggle phase"
Stay tuned for a first of its kind digital film experience in Pakistan! Subscribe to Djuice Pakistan youtube page now to watch the film that is going to be released very soon.