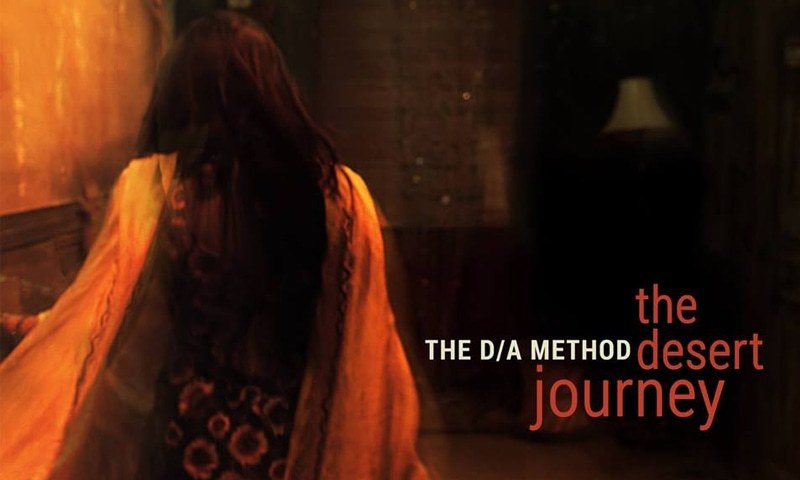 Pakistani progressive rock band The D/A Method shared the first single and music video The Desert Journey, from their second album The Desert Road that is still in the making. Breaking free from the usual tried and tested concepts, they experimented with a fresh new flavour. The band teamed up with Gali Films and turned the music into a visual reality.
Watch the video below:
Disclaimer: Contains strong language and mature content. Viewer discretion is advised.
We at HIP have become instant fans after the video release and luckily we also got the chance to interview the brilliant musicians.
HIP: Can you tell us a little about The D/A Method?
The D/A Method: We're a progressive rock band from Pakistan made up of five musicians from very different backgrounds; Usama Siddiq (vocals and guitar), Umair Dar (guitar, backing vocals, production), Talha Alvie (guitar, backing vocals, production, keys/synths), Istvan Csabai (drums), and Daniel Arthur Panjwaneey (bass). We started as just Umair and Talha in 2012 and since then have become a full band. Our first official release was the Janissaries EP in 2014 followed up by our first full-length album The Great Disillusion in 2015.
HIP: Why do you call yourself a progressive rock band?
The D/A Method: We call ourselves progressive rock because it's such an open-ended genre which doesn't restrict us to anything. Progressive for us means being able to do whatever we want to do, not necessarily sounding like one of the classic prog bands from the 70s (even though we all love and are inspired by those bands). With all of our varying backgrounds and musical tastes, which range from electronic music to black metal, the band is more like a melting pot. The best ideas merge together and we sometimes end up with some very unusual combination of sounds. That's the essence of progressive to us.
HIP: How was your musical journey from your first album to your second?
The D/A Method: Going from our first album to the second has been a huge step for us. We've all gotten a bit better at our craft and at working with each other. We've definitely figured out each person's strong points and brought those out on this album. Another huge change for us is having an excellent producer on board in Bruce Soord (The Pineapple Thief, Wisdom of Crowds). Bruce really kicked us into shape by pointing out all the things we could improve upon from our first album. This made us all step up our game, both in terms of musical performance as well as recording quality. As huge fans of his music, we didn't want to let him or ourselves down. Bruce's touch is evident throughout the entire album and we're very happy with the mix. He even did some backing vocals and a bit of guitar work on the album which adds a nice extra texture to the album.
HIP:Tell us about The Desert Journey, highlight the concept and tell us about your inspiration.
The D/A Method: It's difficult to talk about The Desert Journey itself because it has to be taken in context with the whole album. The Desert Journey is in the middle of the album and very much acts as the spine, both musically and conceptually. Three of us moved during the time we were writing and recording this album so the idea of uprooting yourself from a certain place is very prevalent throughout. In fact, the whole album can be seen almost like the story of someone leaving their home in search of a better one but also experiencing the suffering and solitude that comes with that journey. The song The Desert Journey epitomises that concept. The lyrics "But in this desert land nothing can be sown" describe the feeling of not being able to grow as a person in the place you're in, and the droning, trudging riff embodies the toil one needs to go through to get out of that place.
A huge feature of the song is the Eastern instrumentation in the form of a sarangi, sitar, and tabla. These were performed by a few guest musicians from Sounds of Kolachi who we have worked with in the past: Waqas Hussain, Gul Muhammad, and Shehzad Samson. Whenever it fits, we try and add traditional Pakistani instruments into our songs, and The Desert Journey's expansive riffs provided the perfect backdrop for that. Talha wrote the lead line with a slide and an e-bow on his guitar which created a very strange and dissonant (yet catchy) effect which reminded us of the sounds we heard from Eastern music. Waqas, Gul, and Shehzad came into record their parts after we had done the drums and guitars, perfectly complementing our parts and giving the song the grand, cinematic feeling that it needed.
HIP:What do we expect from your upcoming album The Desert Road?
The D/A Method: As we mentioned, lyrically this is a much darker album than our first one. We've kind of shed the youthful idealism we had during The Great Disillusion and that also comes through in the instrumentation as well. There are more influences from ethereal types of music like post-rock and shoegaze but it also gets very, very heavy at certain points. Vocals are much more of a focal point in this album and Usama's voice has never sounded better. The harmonies are rich and Bruce's voice is like a cherry on top. It also features some of our best guitar work to date and the solos are definitely a highlight. The album sequence flows very well and we'd encourage people to listen to it all the way through when it comes out.
HIP: Do you have a message for the music lovers and an advice for the music industry?
The D/A Method: Buy our album when it comes out and watch our video for The Desert Journey! Just kidding (but not really). To music lovers, we'd say that it's very easy to get down on the state of music of the day. People always say music was better back in the day – in the 60s, 70s, 90s, whenever. We'd say that there's always good new music coming out, you just have to take the time and effort to find it. We live in a very exciting time in music because you can access literally anything with the click of a mouse. So keep doing that and support the talented young bands that are just starting out because there was a time when your favourite band was doing the same thing. To the music industry as a whole, the less said the better but there are some people who are doing really great work in promoting quality music, so to them: keep it up!