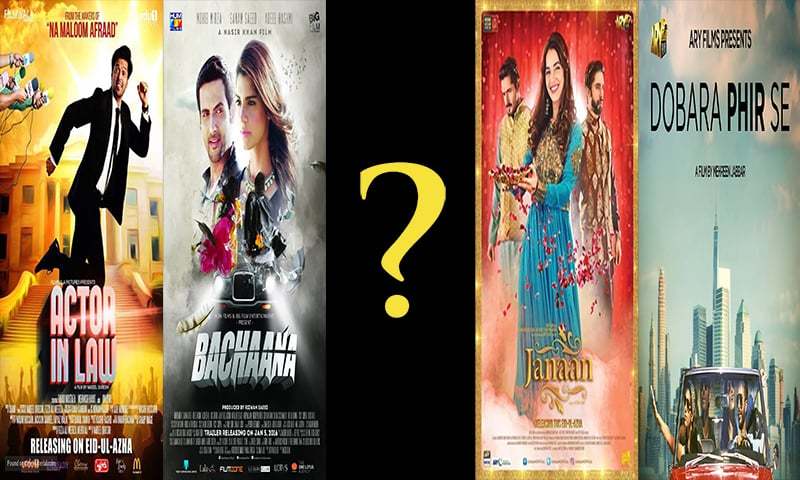 2016 was a good year for Pakistani cinema.

Walking into the cinema and watching a Pakistani movie doing well is indeed a joyous occasion. Pakistani cinema's revival is a milestone that has successfully been achieved in a short span of time. And with this year's back-to-back releases we can proudly say that Pakistan doesn't lack her entertainment quotient.
Read: "Pakistani cinemas need Bollywood films," says Humayun Saeed
With the year almost coming to an end, we can't help but reminisce the good movies 2016 has produced. Shortlisting the best out of the many, here are our top five picks of the year that resonated with the audiences and left us wanting for more:
Janaan
The romantic-comedy Janaan narrates a story of finding relationships through its protagonist Meena (Armeena Khan), a Pakistani Pukhtoon girl who is studying in Canada and is well grounded with her native values. On her arrival in the scenic valleys of Swat for her cousin Palwasha's (Hania Amir) wedding, the movie takes us to an ode to Swat's identity and heritage. We follow her journey as she lands and meets her cousins, Daniyal (Ali Rehman Khan) and Asfandyar (Bilal Ashraf). But soon her life drastically changes, leaving us glued to the plot-writing and camera technique.
Bachaana
Bachaana is a story of two people, Aalia (Sanam Saeed) and Vicky (Mohib Mirza) from India and Pakistan, respectively. Aalia nudges into awareness when she gets to know her husband, Jahangir (Adeel Hashmi) is a drug dealer. In the midst of a chaotic situation, Aalia relies on the only person she knows in Mauritius, Vicky who is a taxi driver and a person with a golden heart. Vicky agrees on helping Aalia and the story takes us through bumps and turns, keeping us hooked till the end.
Actor in Law
Revolving around the narrative of Shan Mirza (Fahad Mustafa), a struggling actor whose dreams of becoming one of Pakistan's biggest superstars seem to be failing day-by-day with small roles and no money, the film takes us on a journey of misadventures. We find Shan in a series of unfortunate events as his honorable yet unsuccessful lawyer father Rafaqat Mirza (Om Puri) departs for pilgrimage, leaving behind an accidental opportunity for Shan; his law practice.
Mah-e-Mir
Mah-e-Mir beautifully draws parallels between the contemporary poet Jamal (Fahad Mustafa) and Mir Taqi Mir's life. Jamal doesn't relish the thought of admiring nature and tries to find the reason behind every thought. Fahad manages to steal the show as the movie progresses with his dramatic monologues, convincing acting and meaningful expressions, leaving us captivated.
Dobara phir se
Narrating the story of Zainab (Hareem Farooq), an independent woman going through a troubled marriage with her husband (Shaaz Khan), Dobara Phir Se is a journey of heartbreak, romance and tribulations. The twists and turns in Zainab's life accompanied by a chance meet-up with Hammad (Adeel Hussain), who is introduced by her friends Samar (Sanam Saeed) and Vasay (Ali Kazmi), renders the plot into a modest two-hour long piece of visual magnificence.
We wish to see many more blockbusters in the coming year and hope the Pakistani film industry's revival continues to accelerate at a steady pace.