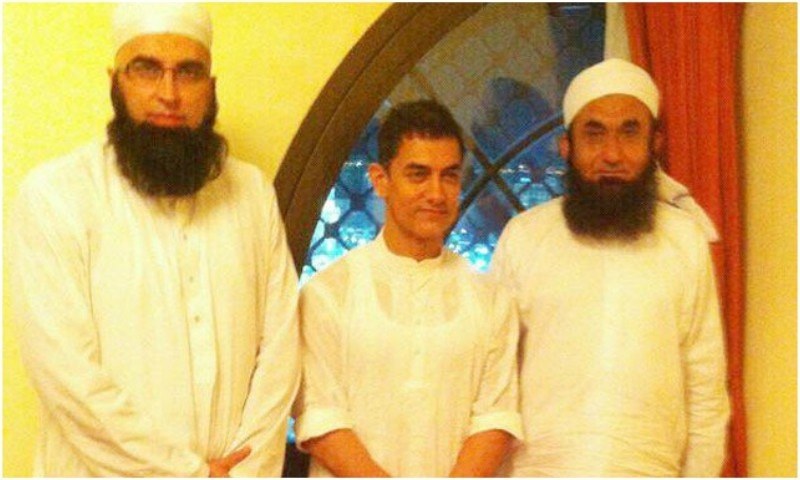 The Indian actor further said he was in shock after learning about the tragic death of Junaid Jamshed...
Pakistani's are not the only ones mourning over Junaid Jamshed's sudden death in the plane crash that occurred recently. Many Bollywood stars are also expressing their views over the tragic demise of the much adored star. Among the many who loved Junaid Jamshed, is the Bollywood superstar Aamir Khan who recently made a statement expressing his grief.
"I met Junaid Jamshed and Maulana Tariq Jameel twice when I went to perform Umrah with my mother," Khan said in a conference in Dubai, where he came to promote his upcoming movie 'Dangal'.
"I found Junaid Jamshed to be a very a religious and humble person," he continued.
Read: Junaid Jamshed passes away in the PIA plane crash
The Indian actor further described the shock he felt after learning about the tragic death of Junaid Jamshed.
Apart from Aamir Khan, many other Bollywood stars also mourned the loss of the talented Vital Signs lead singer.
Indian actress Sophie Choudry expressed grief over Jamshed's death, saying she often sang his songs during her teenage years.
Veteran Bollywood actor Rishi Kapoor, also mourned the untimely and tragic demise of former singer Junaid Jamshed.
Junaid Jamshed, his second wife and 45 other passengers and crew members died when their flight PK661 crashed in Havelian town of Abbottabad on the way to Islamabad from the scenic Chitral valley.