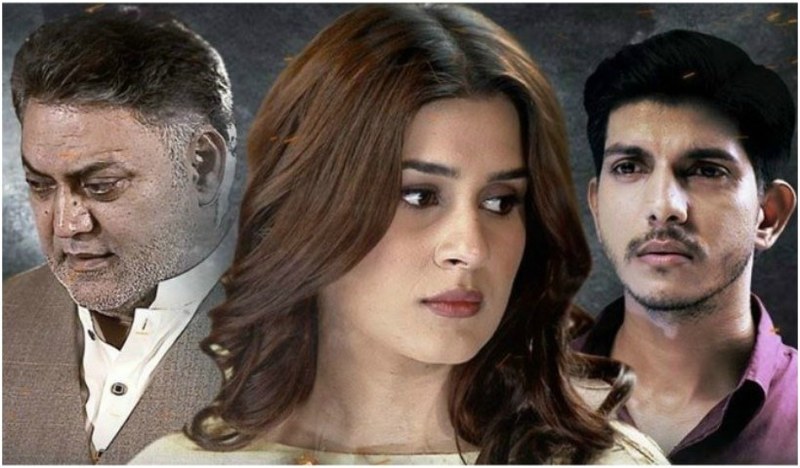 Muqabil narrates the story of Pareesa (Kubra Khan) who was raped during her childhood by someone close to the family. Considering that Udaari paved the way for sexual abuse to be brought in the limelight, we expected it to be similar to the show. But two episodes down, Muqabil is nothing like Udaari, instead it stands out on its own with an interesting storyline and talented actors.
Muqabil shows Pareesa as a 25-year-old introvert, who is not at all close to her mother Shehnaz (Saba Hamid) as she is always busy with her work and social parties. She is, however, close to her father (Saife Hassan) but that too, to a certain limit. Pareesa's only interest lies in looking after her garden and flowers, something that bothers Shehnaz, making her worry about her daughter's future as she has also refused several marriage proposals.
On the other hand, Pareesa seems interested in knowing her servant's daughter's whereabouts. When she notices that the daughter is always away from her mother and is usually found playing with boys innocently, she feels very protective of her. But the reason behind this need to always know about her whereabouts is still unknown. Pareesa hasn't shared her concerns with anyone, making her mother think that she might be disturbed and hence, should be married off.
As the story progresses we find out that Pareesa was sexually abused during her childhood but her assaulter's identity is still a mystery. No one in her family knows what had happened that made the energetic, lively girl a silent serious one. Shehnaz's efforts to find out the reason goes to waste as Pareesa doesn't interact much with her mother.
Read: Mohsin Abbas Haider to make his drama debut
Our favourite actor, Asif Raza Mir is also part of the cast where he plays the dutiful manager of Shehnaz. He is more like a family member but if we go by the promos that have been aired so far, we feel that he is Pareesa's assaulter. But only time will tell, if that's actually the case.
However, Mir's character has a son named Armaan (Mohsin Abbas Haider) who is an economist and is looking for a job. He is shown to have a carefree attitude with headphones always on his head because of which when Pareesa sees him touching her flowers in the garden, she calls out to him to stop but he doesn't listen. But we can see that up till now Pareesa is not fond of talking to anyone except Armaan whom she likes instantly, maybe because both of them grew up together and so she feels comfortable around him.
The show is written by Zafar Mairaj, a writer who pens down a story with a very clear thought pattern that makes the dialogues and the development in the story quite engaging. His previous work includes dramas like Ijazat and Darwaza.
Production by Big Bang is top notch. While we are not at all fond of their play Waada staring Shaista Lodhi and Faysal Qureshi, Muqabil is a refreshing change. Direction by Ali Hassan is impressive as not even for a second did he stretch the scenes or allot unnecessary screen time to a particular character.
The stars of the show, however, are Kubra Khan and Mohsin Abbas Haider. Khan has completely adapted to her role as Pareesa. But the only thing that was odd about her character was that in a scene her mother complaints about how she never applies makeup anymore and yet you have Pareesa standing in front of her, wearing a dark shade of lipstick. However, that doesn't take away from Khan's great acting as with each project, she has only gotten better.
The surprise element in the show was Haider who lit up the screen with his impeccable charm as the well-mannered and friendly Armaan. In fact, we were quite surprised at how well Haider could act. He is what you call a natural actor who doesn't have to work too hard to portray a character.
So if you want to watch a play with a very gripping storyline and superb acting then Muqabil should be your choice. Tune in to ARY Digital every Tuesday at 8pm to find out what life has in store for Pareesa and Armaan.