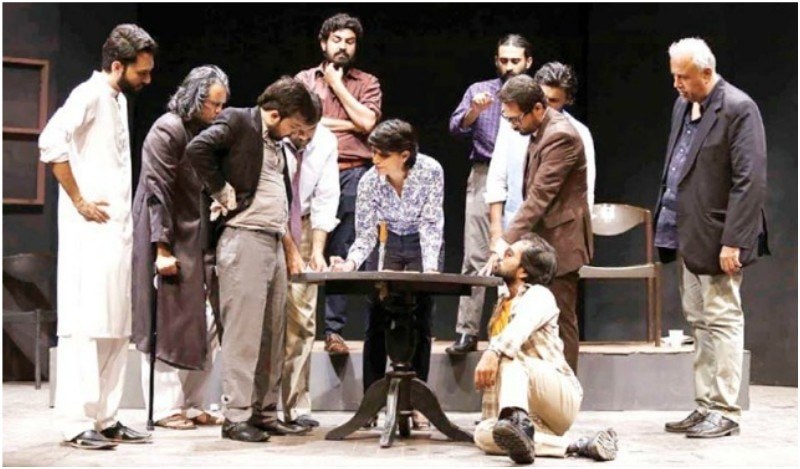 The play will be shown at NAPA from 23 to 25 December. Get your tickets now.

We first saw Qusoorwaar during the Karachi Theatre Festival, earlier this year, and were left speechless after seeing how brilliantly they had adapted Sidney Lumet's 1957 Hollywood classic 12 Angry Men. The incredible play is now all set to be shown once again, at NAPA starting from tomorrow.
It is a gripping courtroom drama that focuses on a jury's deliberations in a capital murder case. One such jury member is an ordinary bank clerk who has no knowledge about law, let alone being a jury member. We got in touch with the man who convincingly plays the role of this 'misfit', Wasut ullah Khan.
Khan is not only a renowned senior analyst of Pakistani politics but also writes columns and articles for BBC and other publications. With such an impressive resume we asked about his decision to do theatre and Qusoorwaar.
Talking to HIP, the certified actor from NAPA said,
"I was given the play '12 Angry Men' as an assignment when I was studying, it was very much appreciated and I was asked to bring it to a commercial level thus, I was interested as soon as I found out this adaptation was taking place."
The actor further explained his role in the play,
"I am playing the second jury member who has no experience of being in a jury or knowledge about law. He's basically an ordinary bank clerk who feels like a misfit and the story follows."
The story of Qusoorwaar moves around society and its norms and how people deal with their prejudices. With themes of crime and punishment, the play is easy to relate to in these modern times.
The 'misfit' jury member further explained how he felt about theatre,
"I think theatre is the best medium/genre to express yourself, it's better than television as you're exposed and there is no room for retakes."
The play doesn't only brilliantly adapt 12 Angry Men but also keeps the audiences hooked with its great performances. But to find out how the play director, Sunil Shanker has brought it alive this time around, mark your calendars for 23-25th December 2016 and grab your tickets to watch the play.