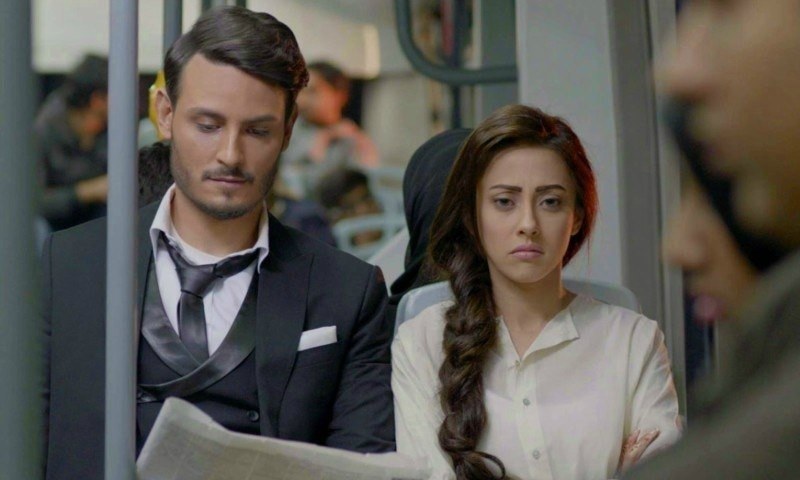 Directed by Haissam Hussain, the trailer reminds us of Bollywood romantic-comedies.

The highly awaited trailer of Balu Mahi starring Osman Khalid Butt and Ainy Jaffri in lead roles is finally out. And as much as we hate to admit it, we are slightly disappointed.
The trailer begins slow paced and only picks up midway, making the story look interesting. Osman plays the role of Balu who comes to stop the wedding of the girl he loves but instead ends up meeting Mahi played by Ainy. Seizing the opportunity to cancel her marriage, Mahi kidnaps Balu and the two drive off to a journey of self-discovery and love.
Read : The first look of Balu Mahi took us back to movies by Sanjay Leela Bhansali
Written by Saad Azhar, the story reminds us of many Bollywood hit romantic-comedies. It not only reminds us of Kareena-Shahid starrer Jab We Met but also greatly resonates with Tere Naal Love Ho Gaya, featuring Riteish Deshmukh and Genelia D'Souza. Remember how Minni forces Viren to kidnap her and they set off for a cross-country adventure? The only difference in Balu Mahi is that Balu crashes Mahi's wedding in search for his girlfriend and instead gets kidnapped by Mahi, setting off for an unexpected turn of events together.
However, we are sure that the movie will have different angles to offer. Besides, there are two things that really standout in the trailer: the amazing music by Sahir Ali Bagga which instantly had our foot tapping and the direction by Haissam Hussain. In fact, some scenes have been shot so beautifully that one can't help but wonder how amazing the scenery would look on the silver screen.
We are, however, a little let down by barely finding Sadaf Kanwal's presence in the trailer. We had really hoped to see more of her to know where exactly does she fit in the story. But leaving to our guesses, we think she might be Balu's love interest.
Although, both Osman and Ainy complement each other and the glimpses of their dance sequence makes us think that they might have grooved to Bagga's music pretty well, their lack of expressions leave us wanting for more.
Besides the talented trio Balu Mahi will also feature Javed Sheikh, Hina Rizvi and Durdana Butt in supporting roles. Produced by Sadia Jabbar, M Arshad and Mian Yousuf Salahuddin as executive producer, we can't wait to watch the movie on the big screen on 10th February 2017.
You can view the trailer and share your thoughts with us in the comment box below.