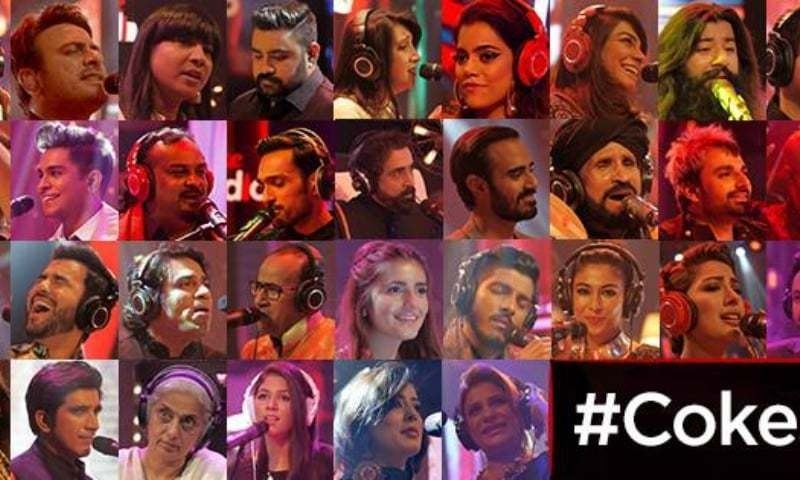 Ever since we saw the first episode of Coke Studio in 2008 we were hooked and throughout the years up till season nine we don't think we have missed a single episode.
Coke Studio was Rohail Hayat's brainchild and began under his guidance initially, in collaboration with the multinational beverage corporation. Rohail carried on with the show till season six and after his departure Bilal Maqsood and Faisal Kapadia took over. The show began to loose its magical touch from season to season and at times it felt as a piece from the puzzle was missing since the compositions had nothing new to offer.
But despite the ups and down over the years, this particular season had some very memorable tunes, which were composed by not one but six different producers: Noori , Jaffer Zaidi, Shuja Haider, Shani Arshad, Shiraz Uppal and Faakhir Mehmood with Strings acting as mentors.
So read on to find out which songs from this year's Coke Studio made it to our top ten list.
Read : Coke Studio Season 9 bids farewell on an emotional note
1. Afreen Afreen
Originally sung by Nusrat Fateh Ali Khan some twenty years ago, the addition of Momina Mustehsan's vocals by Faakhir in the new version gave the song that softer and soothing effect, making it a hot favourite amongst everyone we knew. The most surprising element was to see a newcomer like Momina complementing a maestro like Rahat so well. Besides this was also the song that made Momina an overnight superstar.
2. Uddi Ja
This marked Mohsin Abbas Haider's debut in Coke Studio and what an entry it was. As soon as he began to sing Uddi Ja we were mesmerised by the entire feel of the song that was filled with emotions. The song has been written, composed and sung by Mohsin himself and the music is by Jaffer. We heard it on repeat for at least a month!
3. Aaja Re Moray Saiyaan
Written by Zehra Nigah (Ali Noor and Ali Hamza's mother) and composed by Noori the plus point of this song was Zeb Bangash's classically trained vocals and the peppy music which had us tapping our feet. And if you have recently fallen in love then do give this a listen in case you missed out on this beautiful song.
4. Ay Rah-e-Haq Key Shaheedo
Dedicated to those who sacrificed their today for our tomorrow, this was an emotional song which made us cry by the end of it, especially when we heard Amjad Sabri's part. No words can describe how sorrowful we feel, knowing we will never be able to see such a fine artist ever again. Ali Sethi's ending vocals wrapped the song up beautifully for us.
5. Aaqa
Composed by Shuja Haider, this was the first collaborative single of the duo where both got a chance to enthral us with their different vocal range, making us a big fan of Ali Sethi's voice.
6. Khakhi Banda
The beauty of this song was the softness of Ahmed Jehanzeb's voice mixed with Umair Jaswal's rock style vocals, composed beautifully by Shuja Haider. It made this sufi rock track stand apart from all that we had heard so far. This was one song that kept us tied to our seats.
7. Paar Chanaa De
Being the only song this season featuring an artist from across the border, Shipla Rao and Noori created magic with Paar Chanaa De. Our most favourite part was undoubtedly Zehra Nigah's solo performance in the middle on sagar veena.
8. Main Raasta
Composed by Noori this was one song that had our foot tapping as soon as it began. Classified as a pop rock anthem Junaid Khan's voice made us remember his Call days and miss it too. More of a youth song, Main Raasta is what we listen to when feeling low and need that energetic boost to face the stressful day.
9. Dil Kamla
As the season had the simplest compositions made by Faakhir, this song made a special place in our hearts because of its romantic tune. Dil Kamla is a very soothing song, which is perfect when you just want to sit down with a cup of tea and listen to good music.
10. Rang
This was the most anticipated song of the season as it saw two legends come together to honour their fore fathers. Did you know it was shot in one go? We loved this song simply because of the duos magical voice that can make anything sound good.