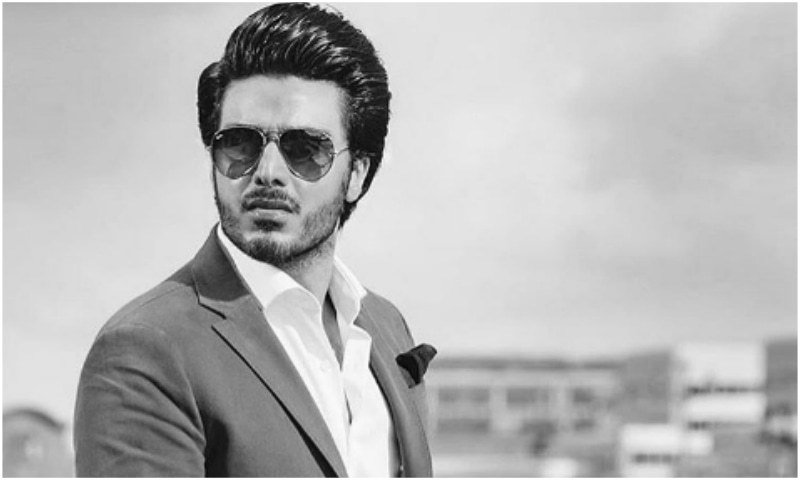 "For me this field is not just about glamour, great clothes, and doing stupid things to get viral," says Ahsan Khan.
Ahsan Khan is a name that is synonymous with great acting and unique projects. He's the kind of actor who doesn't have a care in the world and continues to work towards making a difference. For him, the only thing that is important is to enjoy the projects he works on, as well as to step out of his comfort zone and work on new characters.
However, Ahsan Khan is not just a brilliant actor, he's also a philanthropist who tries his best to use his star status for social causes. And the fact is, people love him so much that whatever he does, turns out to be an inspiration.
After becoming the White Ribbon Ambassador of violence against women, we saw the actor spend new year's with the less fortunate. However, the actor is not yet done with making an impact on this world, whether it's through his acting or social work.
In a conversation with HIP, Ahsan Khan told us exactly what he has been up to.
"I haven't signed any serial after Udaari apart from the ones that are already being aired because I was busy wrapping up my film Chuppan Chupai," said Ahsan Khan.
"After that, I was busy shooting for another film called Rehbra, which is a rom-com. I gave 6 months to one film and I have given four months to another film. I hardly have time left for any other work."
When asked if there were any other serials in the pipeline, he stated, "I will definitely take up a project if something great comes along, as I just don't want to do a run of the mill project in television or anywhere else.
Revealing more about his upcoming projects, Ahsan shared that he has deliberately picked up lighter characters in his upcoming projects, as 2016 was dedicated to playing serious and heavy roles. However, he feels as an actor, he needs to experiment and provide entertainment in a different manner.
"I try to choose sensible scripts," he revealed, "The projects I choose are a notch up from the typical stuff we see around, but they are well thought out."
However, what makes Ahsan different from other actors is his move towards being a part of short films.
When asked why he was diversifying towards short films, he stated, "I am doing short films because I personally feel that when you want to work on a different topic, people in feature films don't want to take the risk of being a part of that project," he explains.
Ahsan has other reasons apart from experimentation when it comes to working on short films.
"I am making sure we give importance to the new comers who are flooded with ideas," he stated. "I introduced two students from BNU (Beaconhouse National University) in my previous short film, and I want to work with new people and give them a chance."
The short film Ahsan previously worked on was Chasm-e-nam, a tale about a blind RJ, which the actor produced in order to highlight disabled individuals. Sharing an interesting incident linked to the movie, Ahsan told HIP, "It was a fictional story and after the film I found out that there is actually a blind RJ in Kashmir and his name is Shahid. He personally messaged me and appreciated my efforts."
But this is not all! The actor has more short films lined up for 2017, one of which is a love story. "This time the short film I am doing will be a cute romantic film, based on two young individuals," he revealed.
Surprisingly for Ahsan, being in the limelight is not important, "For me this field is not just about glamour, great clothes, and doing stupid things to get viral," he said
Yes, he is one individual who wants to focus more on leaving a positive impact.
"I am always active in my social and humanitarian work. Apart from my movies, I am planning a few social activities this year. I feel it is very important for the privileged people, even if they are slightly privileged, to help others."
A message that Ahsan Khan has for his fans is, "How nice of a person you are matters. If Imran khan can create so many cancer hospitals, why can't we try to change the society? Instead of complaining, we should work towards a change."
According to what the actor has revealed, he's all set to bring some sort of a social change through his acting or his social work in 2017. Ahsan Khan truly deserves applause and recognition for his achievements and we wish him all the best for his future projects.