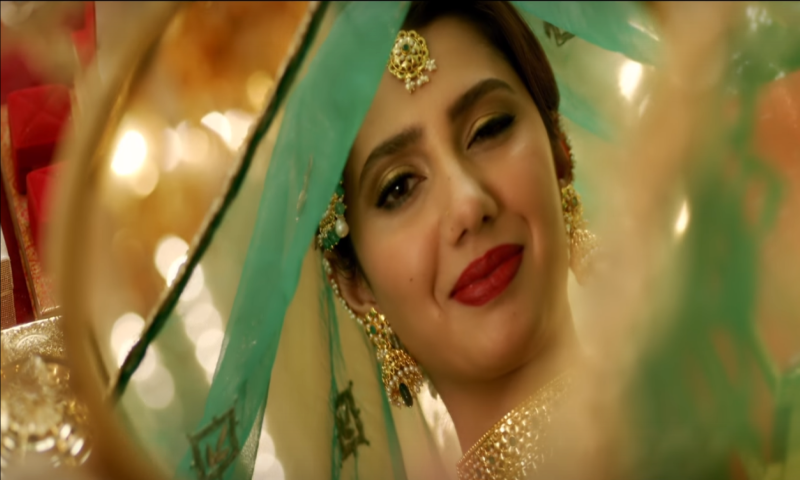 The movie is set to release on 27th January in India and globally, while Pakistanis cry a bucket of tears.

The much-awaited movie of this year, Raees is all set to release in a few weeks and while we obsess over the released songs, we can't help but secretly weep at the fact that there is no clarity on whether the movie will hit our local screens or not.
Therefore, HIP brings you 6 reasons why we truly, madly and deeply want it to release here.
1) Duh, because Mahira Khan!
The diva who stunned us in Humsafar and charmed us in movies like Ho Mann Jahaan and Bin Roye is all set for her Bollywood debut, how can we not want to see that? Besides have you seen her in the trailer, posters and songs? Oh Zaalima!
2) She's starring opposite SRK
Our very own girl is sharing the screen with the glorious SRK and it's almost impossible not to be excited. The man we all grew up crushing over will be romancing with one of our own! Sigh "Make love, not war." The chemistry alone is enough to unite India and Pakistan we believe!
Omg, dil mai mere hai dard e disco, just on the thought of that
3) SRK is the king of romance
If we loved Mahira so much with our own chocolate boy, Fawad Khan. Then, we can only imagine how much will we love her with the king of romance, SRK. Sooraj hua Madham, chaand jalnay laga, No! Now, it's Udi Udi Jaye! Bye bye Kajol, SRK has found a better match!
4) O Zaalima and Udi Udi Jaye, enough said!
Whoever has seen the videos of these 2 songs would know what we are talking about. The striking chemistry between Mahira and SRK pulls on your emotional strings and you can't help but play them on repeat. So instead of pressing the replay button like an insane person, we want to go watch the entire movie on repeat in our local cinemas! (Plus isn't it a good (profitable) thing? All previous losses with recover through this one beautiful movie alone.)
5) Mahira will dance the Bollywood way
The diva has previously shown her dancing skills in Ballay Ballay but now, with Udi Udi Jaye, she takes those moves to a whole new level of perfection. We are more than excited to see her dance the Bollywood way.
Read more: Mahira Khan proves her dancing skills in Udi Udi Jaye
6) And finally, because art is beyond borders.
We want our artists to believe that art is beyond borders and keep on spreading love and peace.