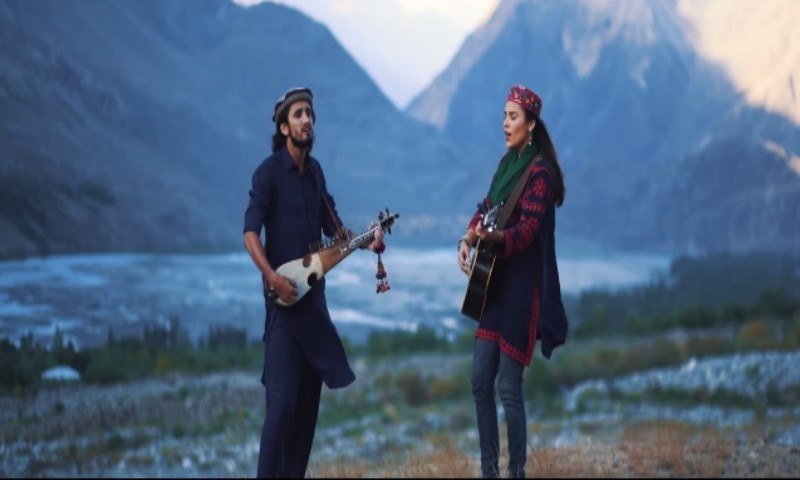 The song that gives us a glimpse of paradise in Pakistan called 'Dunya Jo Baso' released yesterday.

Zoe Viccaji is a name synonymous with melody and sweet tunes. The woman who won our hearts with Mera Bichra Yar and numerous other songs is back with another video song along with Irfan Ali Taj. 'Dunya Jo Baso' meaning life consists of two days is shot in the beautiful mountains of Chitral and maintains a sweet melody throughout.
Read more: Zoe Viccaji and Irfan Ali Taj collaborate on a new song
Despite the lyrics being in Khowar, the language of Chitral, the song still manages to leave a lasting impression because of the engaging tune and the breathtaking imagery.
The video shows Zoe and Irfan jamming in different magnificent locations of Chitral. The locations are so beautiful that you would just want to magically transport to Chitral through the screen. We can't help but notice how the singers' outfits complement the nature around them in different scenes. For example, near a river, Zoe and Irfan are wearing dark colours while wearing light colours in a field.
One thing we loved about the video was that the lyrics are translated on the screen which is all about love and positive vibes.
The video comes to an end with Zoe and Irfan singing with the children of Chitral and warming our hearts. It is such a feel good song that it leaves you wanting for more songs and videos that give us wanderlust.
Therefore, we love the whole Zoe Viccaji style of exploring the Northern areas of Pakistan and shooting songs there making us fall in love with our beautiful homeland some more.