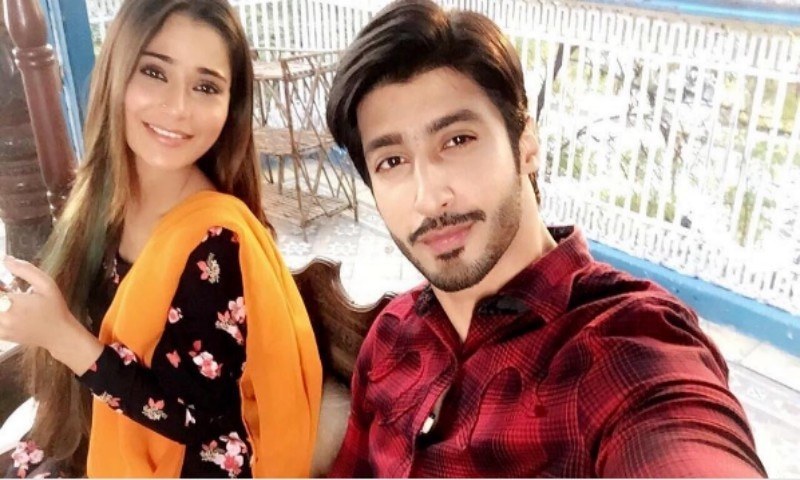 The drama stars Sara Khan and Farhan Malhi in the main lead

Here's some good news. Furqan T.Siddiqui, the man who has given us the Gohar Mumtaz starrer Ghayal, is coming back with another drama called Laikin.
Read: Indian Actress, Sara Khan arrives in Karachi
The drama is produced by Iqbal Ansari, written by Sarwat Nazir, and the content head is Amra Shahid. The drama has a star cast that includes Sara Khan, Farhan Malhi, Ali Abbas, Fariya Hasan, Atiqa Odho, Firdaus Jamal, Ghazala Kaifi, Sajid Shah, Beena Choudhry, Nasreen Qureshi and Sajeerudin.
While talking to HIP, Furqan Siddiqui revealed what the theme and plot of the drama are going to be about:
"The story is about human relationships, and how factors like fate create problems, and how certain characters become puppets to the workings of fate. This includes the main leads Hashim and Hadiya played by Farhan Malhi and Sara Khan respectively. They love each other but it will be revealed how a third person (Ali Abbas) as a negative character will create problems between them".
It seems like the drama will deal with the theme of problematic human relationships, and it always nice to see real life relationships reflected on screen, hence we are looking forward to the drama.
We also spoke to Furqan about what he has to say about casting an Indian actress in this drama ,considering the current tense situation between India and Pakistan to which he said:
"Entertainment industry and politics shouldn't be connected and Sara is a good addition here from India and people loved her here, since she is so close to our culture, she's very good at what she does and she works really well too. So it was a lot of fun working with her".
We agree with Furqan here, as we also believe that art should be beyond borders.
Since Ghayal has been doing so well, we asked Furqan if he expects the same response for Laikin.
"Ghayal gave me a good response and I had a very great experience with IDream Entertainment," he said. and I believe that Laikin will continue these expectations. This is a different kind of story; this covers revenge as well as love, and of course my expectations are high this time, too.
The drama will air on APlus between March or April, and we can't wait to see it!