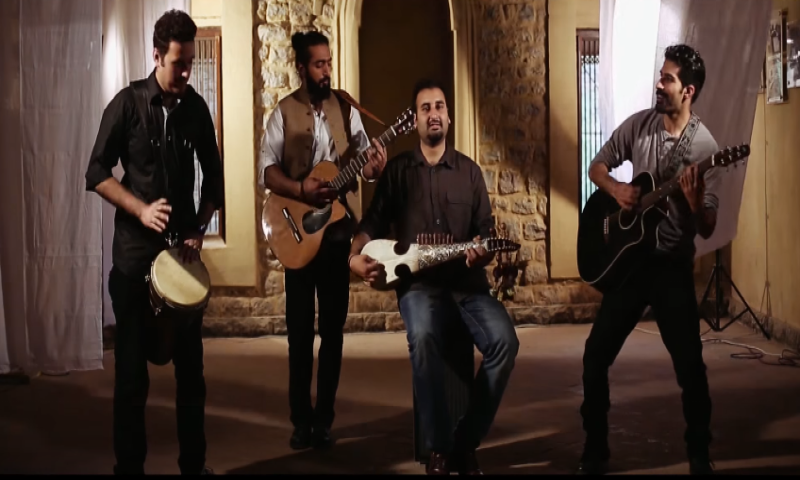 Khumariyaan is an instrumental band from Peshawar.

A push, a stamp and a fall. No, don't worry. Khumariyaan's concert at T2f last night was nothing like that. In fact, it was the opposite.
The event kickstarted at 7 exactly how every event at t2f starts on time ( thank the heavens, someone in Karachi believes in punctuality). And then the night turned magical with dance and trance (we are not kidding).
Before most of our readers feel lost, let me introduce Khumariyaan. It's a Pakistani band which focuses on their native tunes and all the members hail from Peshawar and represent their rich Pushtoon culture through their powerful tunes.
Being an instrumental band, their aim is to break the tradition of the South Asian vocal based musical culture. The 4 band members showcase their magic with instruments like the guitar, rubab and the native Pushto instrument called the Zeer Baghali.
They commenced the show with their famous track Bela and boy were we blown away or what! The track almost everyone has been listening to online and wondering how they have perfected the instrumental style. It sounds so smooth and then you convince yourself maybe it's because it has been recorded in a studio but then you hear it live for the first time ever and you realise, they are just that good. Oh, wait, good is an understatement. They sounded phenomenal.
Now, a good performer just doesn't play and leave, they make sure to grab the audience by the hand and make them feel as much of a performer as yourself. And that is exactly what Khumariyaan did.
They made people clap, head bang, swing, sing along and even made some audience members get up and dance. Their music has always sounded enthralling and now, it seemed it too.
The best moment was when two of the boys from the audience did the traditional Gilgati dance and made the evening more cheerful.
They ended the show on their most famous track, Tamasha which has over 174,000 views on YouTube, well, no surprise there and naturally, the crowd went crazy; they danced and they hooted and they went into a trance. Basically, they did exactly what Khumariyaan aims to do; "entice musical 'goose bumps' " to people who hear their music.
All in all, their performance was outstanding as I'm sure nobody left as a sad person from the show. In fact, when I went up to them and told them I am a fan, they told me not to call myself a fan. "People who listen to our music are a part of the band, they're one of us".
We can't wait till they are back in Karachi again and until then, let's just keep pressing the replay button on YouTube and get mesmerised.