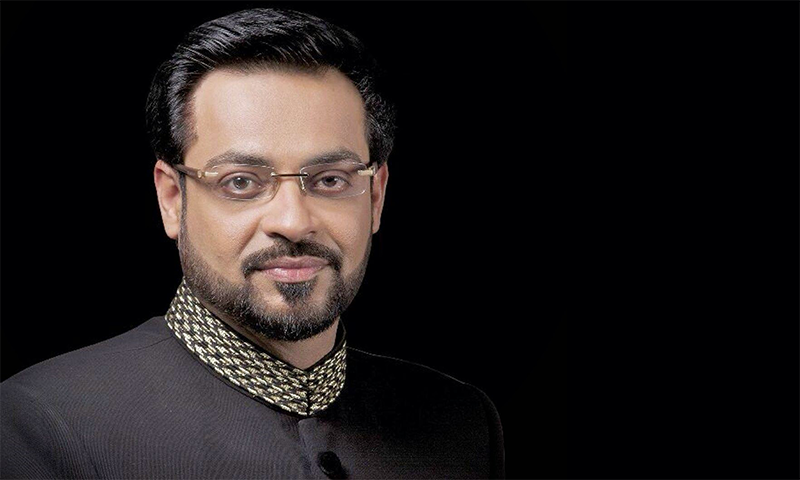 "How can Aamir question my faith when he has never even met me or entered my house" says Jibran Nasir
The ex-politician and TV host Amir Liaquat, is known for indulging in mindless tactics for the sake of TRP ratings. He has also been banned by PEMRA a few times after they received complaints against him, and it seems like the host has gotten himself into trouble once again
After joining Bol TV recently, Amir Liaquat has once again landed himself in hot water as PEMRA has received a complaint about him from human rights activist Jibran Nasir. According to the complaint, the host ran a defamatory and life-threatening campaign against the activists who were kidnapped a few weeks back on his show Aisy Nahi Chalay Ga.
Read : PEMRA bans Amir Liaquat's Inaam Ghar for three days
According to Daily Pakistan Global, Jibran had stated that after the kidnapping of the bloggers took place early January, there were baseless allegations spread over the social media linking the missing bloggers to the allegedly blasphemous Facebook page 'Bhensa'. He further added that 'Ummat' newspaper and some television anchors propagated the allegations without any evidence.
Even the families of the missing activists stated in a press conference along with Jibran Nasir that Salman Haider and Waqas Goraya were not involved in any blasphemous activities nor did they accuse any security agency of kidnapping the above.
Nasir in his letter to PEMRA wrote how the TV host called him an atheist and accused him of running an Anti-Islam agenda, committing blasphemy, being the admin of Behnsa page and an agent of GEO TV urging the government to arrest him immediately! According to the application filed, Liaquat ended his show on Bol TV accusing the kidnapped activists of blasphemy without mentioning the fact that their families had cleared this false report earlier.
Jibran Nasir now, has urged PEMRA to take strict action against Amir Liaquat for hate speech and putting his life as well as the lives of bloggers/activists and their families in danger.
HIP contacted Nasir to ask him how hopeful he was that PEMRA would take action against Liaquat to which he replied,
"I am very hopeful that they would take action soon because if they delay the matter then they are risking people's lives as blasphemy is a serious accusation and it has been falsely labelled against me, the activists kidnapped and their families. These kind of allegations are ridiculous and for the past three days Aamir Liaquat has been talking about this. I am amazed why BOL channel didn't stop him. How can they air such a show which is hurling baseless accusations and misleading the people especially the youth in our country? "
Upon being asked if he personally knew Aamir Liaquat he added,
"No I have never even met the man. I was asked to appear in his show once but I had refused so it is ludicrous that he is questioning my faith when he has never even met me or entered my house. PEMRA must take action against him because we have to stop this menace from going further."
With PEMRA having received the letter, necessary action will be taken against Amir Liaquat as stated by the Chairman Absar Alam. Nasir also took to his social media pages, urging people to file a complaint against Liaquat with PEMRA against his defamatory actions.