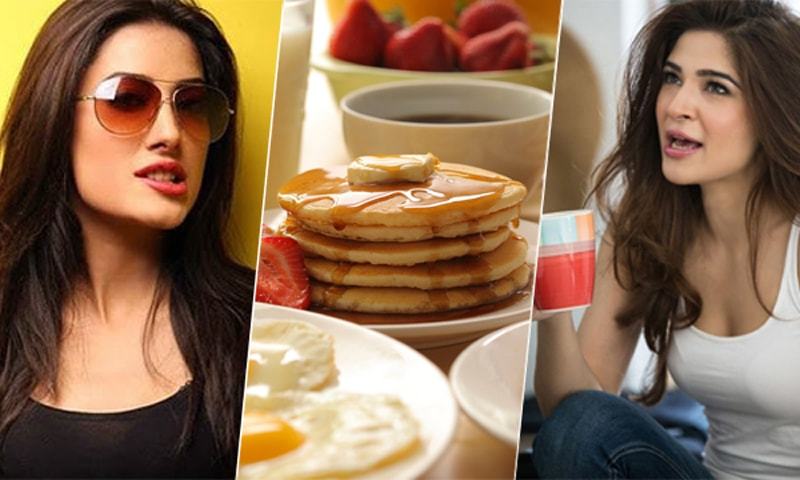 Dedicated to celebrities and their love for FOOD!

Celebrity lives have always fascinated us; be it professional or personal. From the projects they're associated with to their link ups and break ups, and the places they regularly visit, to the food they eat, we just want to know everything! Long story short, we're hungry for information regarding our favourite stars.
If there's one thing we're really interested in knowing about more than anything else, it has to be their love lives. And today we'll talk about their relationship with FOOD!
Breakfast is without a doubt the most important meal of our day and a must for all. A nutritious meal that fuels you and gets you ready for your day. Our top stars know this and make sure never to skip their breakfast to stay healthy and active throughout their busy routine.
We at HIP had a small chat with them to see what their most preferable places are and here is what we found:
10 Pakistani celebrities and their go-to breakfast places:
Ayesha Omar
"I love having breakfast at either Xander's or Neco's," says Ayesha Omar. "The food is always mouth watering and incredibly fresh."
Syra Shehroz
Yummy Omelettes and a variety of fresh food are Syra's favourite. She shares her go-to place with us expressing her eternal love for Xander's. (That's definitely where we at HIP will be heading next)
Azfar Rehman
Azfar Rehman gave a thumbs up to the super delicious Mushroom Omelette and French Toast at The Road Side Café.
Mehwish Hayat
Mehwish Hayat expresses her love for Espresso and their Pakistani omelette as her top breakfast choice. Well, we all understand the omelette obsession, that too with green chillies and a traditional twist.
Sumbul Iqbal Khan
This beauty heads off to Espresso every time she wishes to enjoy her early morning meal. Her all-time favourite breakfast items served there are Pepperoni Omelette with herbs and chocolate waffles alongside their yummy vanilla lattes.
Nadia Hussain
Just like her stunning clothes and jewellery, the gorgeous model also makes sure to select the finest places when it comes to food. It was Xander's and Cosmopolitan for Nadia and we'll have to agree, their finger-licking breakfast items are a must have.
Danish Taimoor
Danish Taimoor is a fan of Mexican food and finds it hard to resist. The handsome young actor loves having his breakfast at the Chatterbox café and enjoys their appetising Quesadillas and baked items.
Sarwat Gilani
Once again Xander's makes it to the list! Apart from that, Sarwat likes to keep her breakfast rooted to the Pakistani traditions. She loves having our most favourite Halwa Puri, especially from Saddar. Well Sarwat, we completely agree with you! Nothing beats our desi breakfast.
Hareem Farooq
Hareem Farooq loves to workout, eat healthy, and enjoy life. The super fit actress is obsessed with Espresso and goes there for their scrumptious cheese pepperoni mushroom omelette every time she visits.
Shaista Lodhi
Shaista Lodhi has two favourite breakfast places in town. "I love heading off to Neco's for their delicious Herb omelette and French toast with banana caramel topping. Another place that I love going for breakfast is Xanders. I go for their scrummy blueberry granola with lots of dry fruits alongside their De Café cappuccino every time I visit."