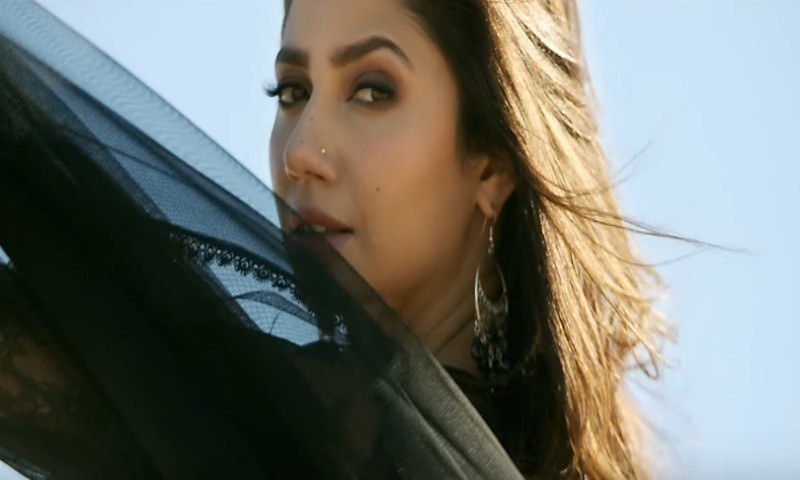 From being called gorgeous to being labelled a decorative piece, the critics have said it all.

While Indians were going gaga about SRK in Raees, excitement was high on this side of the border as well, since our very own Mahira Khan is sharing the screen space with the glorious SRK. Also, who wouldn't want to see the Humsafar beauty with the king of romance?
Read: Mahira Khan shines in Raees trailer
Since people have been so obsessed with Raees and our Pakistani Zaalima in it, HIP decided to bring to its readers what critics all over the world have said about Mahira.
The positive
Taran Adarsh :
Taran Adarsh, highly acclaimed Indian film critic was all praises about our homegirl:
"Mahira Khan looks gorgeous and handles her part with confidence".
Well, we agree Adarsh, Mahira is beautiful, after all.
The financial express:
The financial express from India believes in our philosophy too that art is beyond borders and seemed more than impressed with our diva:
"Mahira Khan makes a startling debut and we hope that once the furor over Pakistani actors has died down, we'll get to see some more of this wonderful star in Bollywood".
Rasika Pote
Rasika Pote praises Mahira for giving a strong performance:
"The actress has made her presence felt with a strong performance".
Aastha B. Khandpur
Aastha B. Khandpur from movified talks about Mahira's character developmet:
"Mahira Khan looks absolutely ethereal, but the actual depth of her character comes alive only in the second half".
Zee News
Zee News perceived Mahira as a breath of fresh air:
"Pakistani sensation Mahira Khan is like a breath of fresh air. She has succeeded in making a fair first impression on the audiences."
Ending the positive note from Pakistan, Mahwash Ajaz thinks Mahira's character is real, genuine and vulnerable:
The negative
Now, brace yourselves for the negative reviews because we are more than certain they are going to break your heart. Hence, get your tissues ready.
Times of India
Nihit Bhave from Times of India thinks that she failed to make an impact and didn't really contribute much to the film. His exact words being:
"Mahirah is restricted to songs and a few emotional scenes, but doesn't really add much. If her purpose was to soften the baddie, it's lost on the viewer".
Ouch, guess we'll have to wait for the film to release here and decide for ourselves about how much our favorite starlet "added" to the film.
The Indian Express
The Indian Express wasn't all praises either. They found Mahira not being fresh enough and this is what they had to say:
"Mahira Khan, too is not as fresh as she could have been: the coyness is old Bollywood and in a film which should have embraced its masala roots much more firmly, it just sinks".
Sreeju Sudhakaran
Sreeju Sudhakaran from Bollywood Life went a little too mean and reduced Mahira to just a showpiece:
"There is zero chemistry between SRK and Mahira, even with random insertion of songs here and there. Mahira mostly has the role of a decorative showpiece".
Really? Then, what was that sizzling chemistry we witnessed in Udi Udi Jaye?
Read more: Mahira Khan proves her dancing skills in Udi Udi Jaye
DNA India
DNA India also noticed the lack of chemistry between the duo and broke our heart a little:
"The romance between SRK and Mahira has no spark".
Pink Villa
Pink Villa thinks that Mahira was just easy on the eyes:
"The otherwise luminous Mahira Khan is not used well. Thankfully, she doesn't settle for a gratuitous part aka Fawad Khan of Ae Dil Hai Mushkil, she definitely doesn't do much for the story besides being easy on the eye".
Surabhi Redkar
Another Indian critic, Surabhi Redkar has zero faith in Mahira's acting skills:
"Mahira Khan's casting has been the talk of the town. Unfortunately, she does nothing special here and for all we care, any Bollywood actress could have pulled off that role. She even fails to emote appropriately in a few scenes".
Read more: Mahira Khan: SRK's new Kajol in Zaalima
Ouch, that hurts.
Hindustan Times
Sarit Ray from Hindustan Times struck us with a club when he called Mahira a prop:
"Raees is borderline misogynistic, with the female lead (Mahira Khan) little more than a prop: a love interest he marries, keeps at home to bring up his child, and either yells at or romances".
Deccan Chronicle
Rohit Bhatnagar from the Deccan Chronicle is merciless:
"Debutante Mahira Khan is awful. She is probably the first ever actress paired opposite Shah Rukh Khan who fails to ignite the spark with her chemistry on screen. A tinge of romance is sprinkled in the songs between the two which is soothing but songs are just fillers".
Mumbai Mirror
Kunal Guha from Mumbai Mirror puts the final nail in the coffin and declares Mahira unworthy of the Indian visa:
"Investing in Mahira Khan's visa was a wasted cause as the actress can barely construct half an expression".
All in all, our actress has failed to win the hearts of most of the Indian critics. We shall have to wait and see how the common audience reacts.
And it's okay Mahira, we still love and support you for making it to Bollywood and that too alongside, SRK.