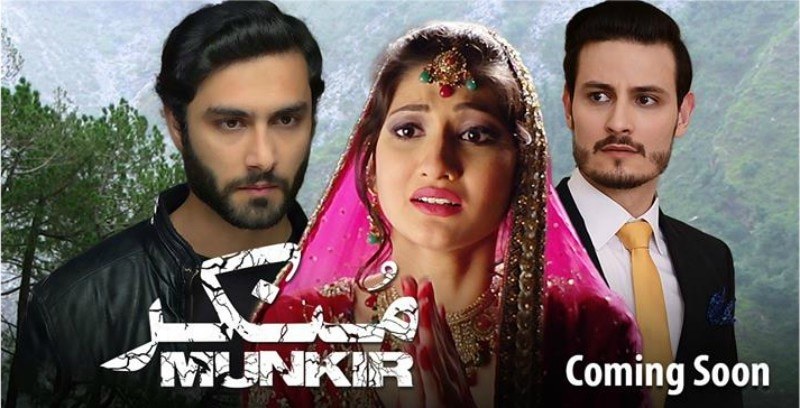 TV One has produced top notch plays like Main Sitara, Mann Pyasa and the recent Seeta Bagri, which have a good star cast and an interesting story line. Adding to the list now, is another drama Munkir, starring Osman Khalid Butt, Ahmed Ali and Nida Khan in key roles.
The drama is written by Zafar Mairaj, the writer behind plays like Sangat and the much loved Dumpukht. This time around, the script revolves around the theme of love, jealousy and betrayal, and judging from the trailer, the drama seems to be quite intense.
Read : TV One brings a paradigm shift in TV industry with its riveting tales
From what we picked up from the trailer, Rona (Nida Khan) comes across as a simple yet emotional girl who meets Gulrez (Ahmed Ali) when her car breaks down. And from there, the story begins. However, we also see Osman Khalid Butt who seems to be involved with Rona, and is most likely, her fiance. But after Rona meets Gulrez, things change and a love triangle is formed.
Gulrez, on the other hand, looks like a sober guy who seems to have a mysterious past and we never even see him smile. As obvious, all these three characters are going to be entangled and how they deal with it is something we hope to find out in Munkir when it airs soon.
We are also liking the realistic touch to the play and are looking forward to the gripping story line.
Apart from the gorgeous trio, Munkir also stars Mahmood Akhtar, Qavi Khan, Maryam Nafees and Mahajabeen and the direction is by Nadeem Siddiqui.
Till then, enjoy the teaser and let us know what you think about this upcoming play.