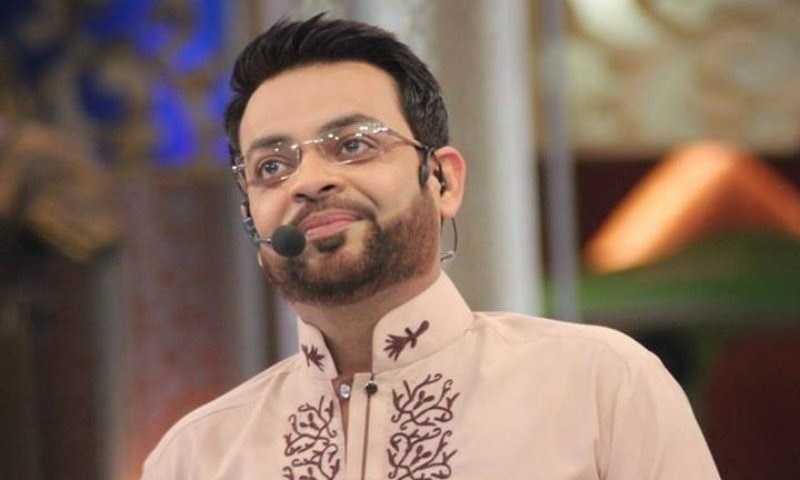 Jibran Nasir previously urged PEMRA to ban Aamir Liaquat for hate speech.

Aamir Liaquat has often gotten into trouble with PEMRA but this time around, the TV celebrity spoke malicious stuff against Human Rights Activist, Jibran Nasir which resulted in him getting banned.
Jibran Nasir recently filed a complaint against Liaquat for hate speech and for threatening the lives of bloggers/activists and their families.
According to the complaint, Aamir Liaquat on his show, Aisy Nahi Chalay Ga on BOL TV made hateful and life-threatening comments against the activists who were kidnapped, a few weeks back on his show.
Read: Jibran Nasir urges PEMRA to take action against Aamir Liaquat
"Aamir Liaquat and his programme have been banned with immediate effect for preaching hate," read the issue of a notification by Pakistan Electronic Media Regulatory Authority (Pemra).
It added:
"Aamir Liaquat, the host of the programme named Aisay Nahi Chalay Ga shall not host any programme or appear in any manner, including but not limited to, as a guest, analyst, reporter, actor, in audio, video beeper, promo/advertisement on BOL News".
It looks like PEMRA has made this decision over a time and after properly analysing the gravity of the situation:
"During several weeks it has been monitored that Amir Liaquat host of the programme Aisay Nahi Chalay Ga, in the episodes broadcast on BOL News from January 2, 2017 to January 24, 2017, has willfully and repeatedly made statements and allegations which tantamount to hate speech, derogatory remarks, incitement to violence against citizens and casting accusation of being anti-state and anti-Islam, on various individuals."
PEMRA has also warned BOL channel that it will be banned if they don't follow the order issued by them:
"In case of non-compliance of the above orders, the licence for the channel BOL News shall be suspended with immediate effect".