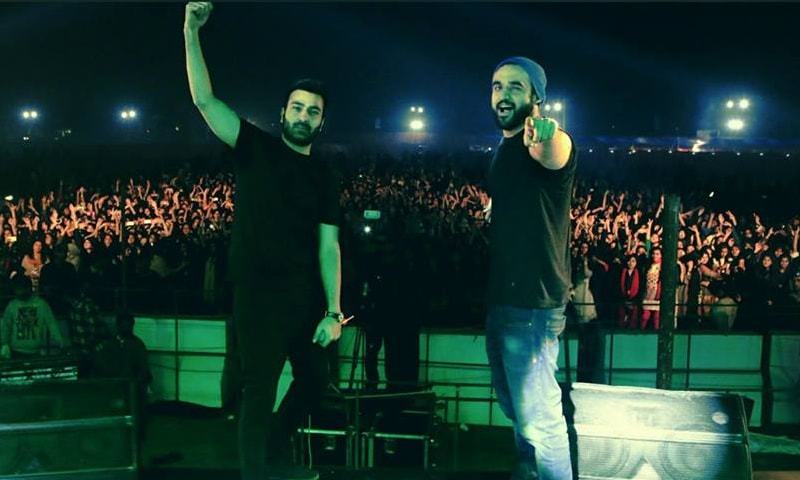 Feroze from SomeWhatSuper talks about EDM, the sibbi song and wanting to work with Atif Aslam

SomeWhatSuper is all the rage these days! After they released their latest single 'The Sibbi Song' featuring the new found talent Abid Brohi, we were totally hooked and ended up listening to every song they released. The group consists of Talha and Feroze.
HIP recently got in contact with Feroze and there seems to be a lot you didn't know about these talented guys!
HIP: Tell us a little something about the group's history. How did you guys get started and what was your inspiration behind the unique fusion of genres?
Feroza: Talha and I came from two completely different backgrounds. I was at NCA, he was studying at UCP. However, we were both DJs, music producers, cancerians, and the same age. That was what initially brought us together when we met through a mutual friend, back in 2014, and decided to join forces. We weren't doing amazingly well separately, but as soon as we got together, it was almost like magic. We introduced Mumbathon to the Pakistani audience, a genre that hadn't existed here before, and delivered our first viral hit, Bandook, shortly after.
We always looked up to music producers the likes of Diplo, Skrillex, and Flume, but we didn't want to become them. We knew that if the audience wanted to listen to Diplo, they'd go listen to him, instead of us. And we, anyway, wanted to do something that was Pakistani at heart. Whether it was in Sindhi, Balochi, Urdu, or Pashto. We wanted to stay true to our roots.
The industry that we're a part of is the fastest growing genre within Pakistan - evolving every 6 months with a new sound coming out; and that doesn't happen in any other music community. This proved to be a good thing for us, because we could essentially experiment with different types of sound. The electronic music community, before this, only circulated within the same genres: deep house, tech house, etc. However, that was music that was associated mainly with drugs. So you had your music to enhance your 'experience', but not add to it; music in itself wasn't the main focus, and hadn't been for a while. And because they catered to a selective niche, they didn't grow out of that and step into commercial music. SomeWhatSuper are the first producers, thus far, to join EDM with commercial sounds, in Pakistan.
HIP: The Sibbi song has been getting a lot of attention lately. How did you find the talent that is Abid Brohi and how was it working with him?
Feroze: A friend of mine, Raza Shah, had gone to Sibbi to document the Sibbi Mela. It is there that he encountered Abid for the first time. Raza recorded his vocals and sent them to me that is when I spoke to Talha, my partner, and we finally came up with an idea. The initial track was made within two to three days, but after that everyone just sort of slacked off, including Abid, including us.
Recently, we sent the track to Patari and they told us that they were already working on building collaborations with laymen and music producers. We thought we'd met the perfect match and made them listen to the song. When the track was finally finished, I tweaked it around a bit and everyone thought it had turned out to be a very catchy tune. I literally had people asking me for the song. That's when I had already made up my mind that this song is going to be the next big thing. As SomeWhatSuper, Talha and I always used to discuss the fact that there hasn't been a second Aadat since when the song first came out - that no song had gotten that kind of public attention in a really really long time. And that's what we were looking for in a song. And, not to gloat or anything, but we believe that the Sibbi song comes pretty close to the kind of acclaim Aadat got from the masses. Besides, before the song came out, there were many people who didn't know about SomeWhatSuper. It's this song that's given us the push we needed in this industry, too.
Working with Abid, in such close proximity, made me realise what a down-to-earth and humble guy he is. He's the ultimate representation of a common man in Pakistan. If you meet him even once, you'll automatically be able to tell that he's a genuine guy through and through. His innocence shines through his personality. And I genuinely believe that we need more people like him around, who make you realise what goodness really is. We live in such a fast-paced world that you'll hardly find someone as rooted as him. I still remember the first time he heard the mastered version of Sibbi, he didn't understand the genre, but he was smiling from ear to ear, constantly asking why he was liking the music so much! His feedback alone was enough to give us the motivation we needed.
Abid is a guy who has seen so much struggle in his life that it had gotten to a point where he'd lost the will to carry on. He's seen a lot of sadness, and top of that he has a medical condition, that doesn't really help the fact that he's from the labour class, and he needs to be physically fit. Even during his darkest days, however, he didn't let his dream of becoming a singer die out. He's performed at weddings in towns far away from meager amounts of money, travelling on his own expense, just to keep his dream alive. He created a unique style for himself that only he can pull it off. Rappers all around imitate other, more famous performers, but Abid carved a niche for himself. The attitude, the swag that you see in the video, is all him. There is no pretense about him. If you ask someone to get up and sing/rap like Abid, they won't be able to. Yes, they might be able to imitate an Eminem or a Bohemia, but it'll take a few years before anyone can master the Brohi rap. However, also within a few years, if Abid is nurtured properly within the industry, he's going to become a force to reckon with.
HIP: Who would you really like to work with in future and why?
Feroze: Honestly, the people we really wanted to work in the future, we're either already in talks or we're working on one project or the other with them. One person, however, we would like to work with in the future is Atif Aslam. His sound has insane variations and he has a distinct style. And that's something we'd really like to experiment with. Also, he's the biggest rock star our generation has seen. He's already experimented with Progressive House before, but we want to take it up a notch, and produce something for our own country.
HIP: And lastly, what else do you have planned for the future?
Feroze: We want to experiment more with sound, in the future, too. We've done commercial sounds, and we were very well received by people but we don't want to bore them with the same genres over and over again. We're primarily DJs as well, and no DJ will play the same song over and over again, he'll try to keep the audience hooked on to the music.
We also want to collaborate with more known faces, in the industry, because that has always been a dream for us. We want to introduce a new sound in the industry and create our own little music revolution in Pakistan. One thing that we've taken upon ourselves is to introduce and promote unknown faces in the industry, now. After collaborating with Abid, we realised the sheer amount of talent that exists within this country, but has no access to the industry, to studios, or even to the internet. This is something we won't stop doing, for a very long time.
The global EDM community is very small, and it is even smaller in Pakistan. We want to help everyone who comes to us, seeking an opportunity. And who knows, we might have tens of Abid Brohis that we hadn't even heard of before. Ever since Sibbi came out, especially, we've been flooded with messages and demos of people trying to get across to us for a boost into music. The condition of the electronic music community in Pakistan has been deplorable for a while. They lived within their own bubble and didn't appreciate it if someone wanted to penetrate that bubble. What we want to is to create a new community in Pakistan, one that is welcoming to all forms of talent, and one that consists of music produced by Pakistanis for the entire audience of Pakistan and take it international, as well. We want to open the platform too everyone who deserves at least one shot at fame.