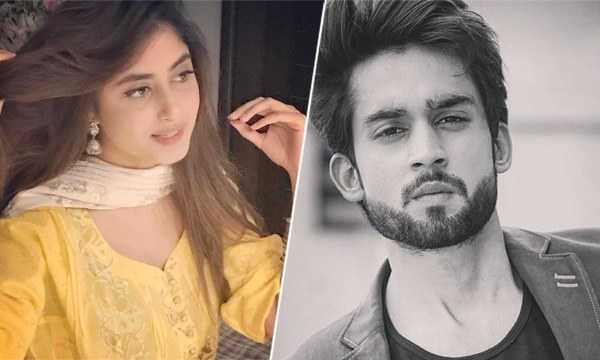 "It's a beautiful story for a drama, I play a dye wala and Sajal is my first cousin," Bilal told HIP.
With new people stepping into the industry every now and then, there are some who fail to leave an impression while others become the centre of attention. Bilal Abbas Khan is one actor whose demand keeps increasing with each passing project. After Saya-e-Deewar Bhi Nahi, Dumpkhut and Thora Jee Le he is all set star in not one but two more dramas this year.
ARY's upcoming drama 'Rasm e Duniya' looks pretty intense!
While Bilal is going to star in Rasm e Dunya opposite Armeena Rana Khan, the other actress he will be seen opposite in Sajal Ali in O Rangreza.
O Rangreza is directed by Kashif Nisar who also directed Bilal in Dumpukht earlier.
In an exclusive interview, Bilal further revealed,
"I am very excited about this project since it's given me a chance to work with Kashif once again, this time for Hum Tv and of course with Sajal too. I play a character named Qasim who is a bit complexed but at the same time he comes across as someone who is not very sharp since his attire is pretty simple"
Read : Armeena Khan's upcoming drama Rasm-e-Duniya is all about family betrayal and revenge
On being asked more about the story, he told us,
"It's a beautiful story, I play a dye wala and my whole get-up is like that. I fall in love with a girl played by Sajal who is my first cousin and from there the play will unravel and the story will unfold. All the characters involved have their own story to tell which will make O Rangreza an interesting watch as it is quite different. Besides Sajal and myself the play will also feature Nauman Ejaz and Sonia Mishal."
Since Rasm e Duniya is set to air on ARY Digital real soon, we asked Bilal to reveal a little about his character,
"My play a guy named Faris who gets involved with Armeena's character, we belong to the same family, but under what circumstances I begin to like her is what you have to wait to find out"
Apart from his dramas, we asked Bilal if he has further movie plans after Thora Jee Le?
Read : Actors that will make it big in 2017
" I did get a movie offer before Thora Jee Le was released but I wanted to wait and see the audience's reaction to a film based on the youth. Having seen that now I would rather wait and say yes to a script which is a bit different and which really excites me. So, for now, I'll just focus on dramas and leave the rest on time."
We wish Bilal Abbas all the very best for his upcoming dramasRasm e Dunya and O Rangreza!