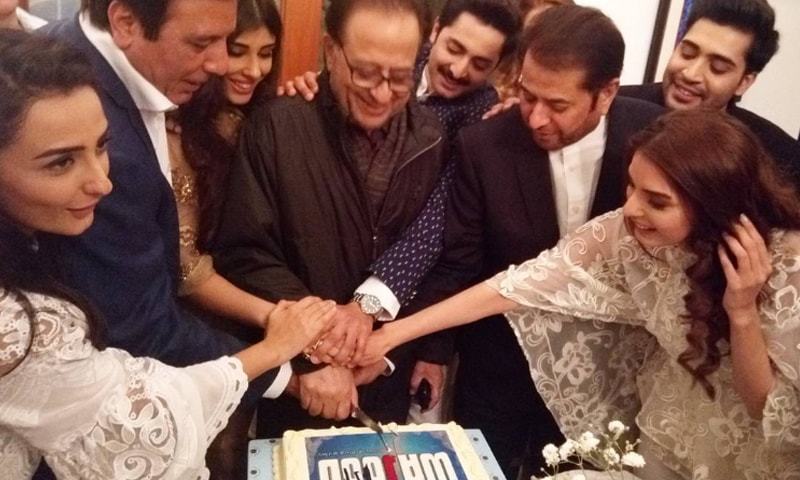 The year 2017 brings with it a promise to give us loads of entertainment and cinematic treats. With new movies being announced every other day, we have high hopes attached to our local cinema this year and the latest to get our attention is none other than Javed Sheikh's directorial titled Wajood.
Javed Sheikh made the announcement last year and officially launched the venture at a star-studded event at Ocean Mall on Sunday. (5th Feb 2017)
In Conversation with Javed Sheikh - Javed Sheikh wears director's hat for 'Wujood'
Apart from the fact that the veteran Javed Sheikh is attached to the movie, which is enough to get us excited and guarantee success, there are a few other reasons that add to our excitement.
5 Reasons We're Excited For Javed Sheikh's Movie 'Wajood':
The Trio - When legends unite, success is a given!
The movie stars Javed Sheikh himself along with Nadeem Baig and Shahid Hameed together sharing the screen and we can't find a bigger reason for our excitement! If this isn't the recipe for a blockbuster, we don't know what is!
Danish Taimoor - Need we say more? He also flaunts a moustache!
The heartthrob already has two superhit movies Jalaibee and Wrong No credited to his name and another titled Mehrunnisa We Lub You ready to release soon. And even before it hits the screens, we know we have one more in progress!
Exclusive: Danish Taimoor signs Javed Sheikh's film Wajood
Frieha Altaf - In a full-fledged role opposite another legend!
Because her cameo in Lahore Se Aagey wasn't enough to showcase her true potential as an actor or satisfy us as fans! We're so thrilled at the announcement of Frieha Altaf starring opposite Nadeem Baig!
Begum Nawazish Ali - As Begum Nawazish or Ali Saleem?
All we really want to know is what role he will be playing! Ali Saleem is a true performer and can slip into any role and win the audience we believe!
Bollywood actress Aditi Singh - latest import!
An indo-Pak exchange always gets us excited and fills us with the hope that better times will come and these two countries will finally learn to live in peace! Aditi Singh is gorgeous and we believe will be a good addition to the venture!
Directed by Jawed Sheikh, Wajood is being produced by Shahzad Sheikh and Momal Sheikh. The shooting will commence on the 7th of February, in Pakistan with the second spell in Antalya, Turkey later this year.
Stay tuned for more news and updates about the movie!