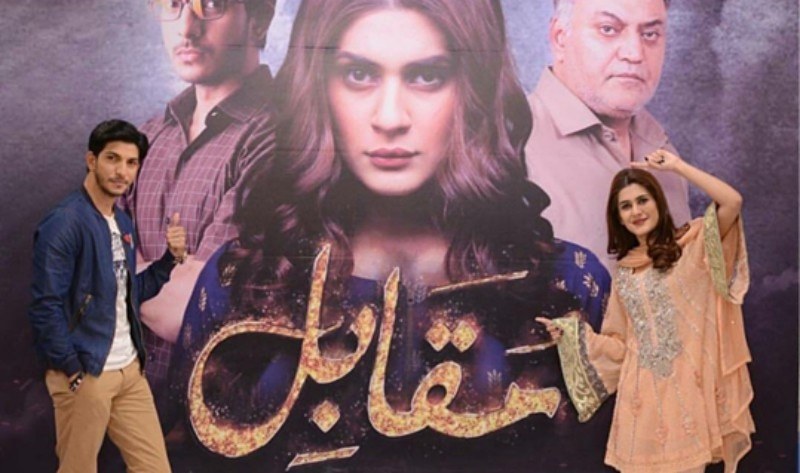 Dealing with a topic as sensitive as child molestation intelligently is not an easy task. It needs a lot of careful planning to get the point across without hurting sentiments or being indecent. ARY Digital's Muqabil succeeds at delivering the message thanks to the beautiful dialogues penned by Zafar Mairaj and the cast for their flawless performance.
The drama is an eye opener that you can sit and watch with the family without being uncomfortable. Ali Hassan has directed this drama with a lot of grace making it a hit!
Coming to this week's episode,
Having reached the 10th episode the story is still continuing with a steady flow which is keeping our interest alive. Pareesa (Kubra Khan) is in Mehmood Shb's (Asif Raza Mir) house married to Armaan (Mohsin Abbas Haider) but she doesn't allow him to touch her because of all that happened when she was young. Even though Armaan has been very respectful of her wish till now, this week we saw him try to get a bit smart with her as his trusted friend brainwashed him that how when a girl says no she means a yes in reality.
With that thought in mind, it was rather cute to see him make an advance at Pareesa which just did not go well with her causing Armaan great embarrassment and a million apologies later.
Where we understand her hesitation Armaan obviously does not but we hope she can trust him with the truth instead of pushing him away.
Read : Muqabil Episode 9 Review: The story takes a more intense and engaging turn!
Mehmood Shb is a twisted character because you see him as a great father to his daughter, a family man who is religious too but at the same time you don't really understand why would he sexually abuse a little girl especially when he himself has a daughter?
We saw him be concerned about Pareesa especially when she had nothing new to wear for a gathering which they are planning. But while he pretends to be concerned about her, the guilt in him makes him confide in a Pir about how he wants to get rid of her too. So how successful will Mehmood Shb be in his new technique is what we will see next week.
Kubra Khan and Mohsin Abbas Haider share a very good on-screen chemistry with one another. The scene where Armaan makes a cup of tea for Pareesa just stole our hearts. Asif Raza Mir steals the show every week along with the lead pair making an amazing team!
Intelligent piece of writing by Zafar Mairaj and a very unique plot; the fact that the victim is a strong girl who will avenge what happened to her is what makes Muqabil a super hit on our HIP radar.