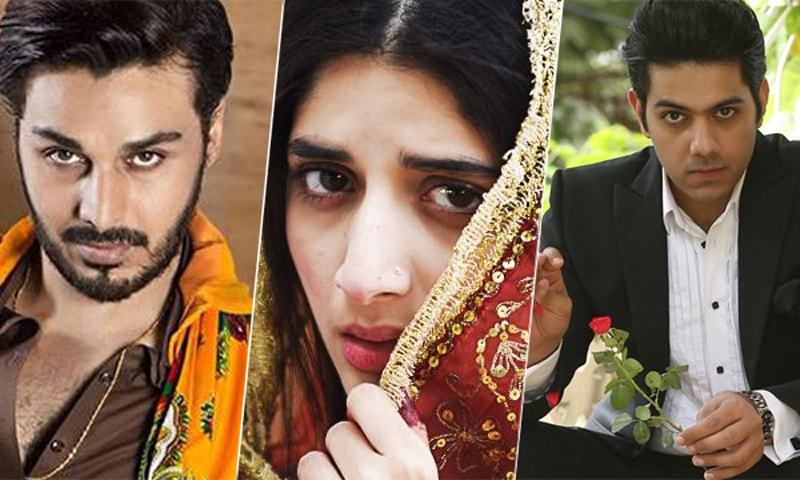 Pakistani dramas have been making waves across the country and worldwide owing to their challenging storylines.

We must give credit to Pakistani dramas for never being shy… As of a few years, we have begun to address bold topics and mature social issues in quite a good number. And the trend is nowhere near slowing down. We have dramas that go beyond the typical rona dhona and saas/bahu plotting… we've shunned run of the mill stories and now are focusing on more social issues.
Our dramas have brought taboos to life- with a perfect and very well balanced combination of storytelling. We have addressed issues, we dared not talk about earlier. Our dramas are becoming more and more focused on breaking social taboos (albeit romanticizing the stories, but who can blame the industry for earning some ratings). But there have been certain times Pakistani dramas have taken social issues and addressed them with a power that needs be so…
10 Pakistani dramas that have been making waves across the country and worldwide owing to their challenging storylines:
Roag
ARY Digital dared to be different with this one. Roag addressed the sensitive issue of child rape and showed the dark reality we keep hidden from our own daughters and sisters. The drama depicted the struggles of the victim's family and the changes she had to go through to become fit to live in the society. Roag was a subject that had never been touched upon and Babar Javed, did complete justice to the concept without adding in any unnecessary masala. Faisal Qureshi, Asif Raza Mir and Sumbul Iqbal amongst others, did complete justice to their controversial characters bringing to life an issue dared not brought up ever before.
Chup Raho
Directed by Yasir Nawaz and Written by Sameera Fazal, Chup Raho was loud and clear! Silence will always encourage sex offenders. Sajal Ali played the role of a molestation and physical abuse victim by her very own brother in law. The story revolved around how a girl had to stay silent and endure the vile acts of her brother in law just to save her own namesake reputation and her sister's marriage. The drama was based on total reality that has been a taboo in our society since ages. Chup Raho stayed true to life and depicted the monstrosity of the abusers that easily slip away after their heinous acts.
Dil Tu Bhatkay Ga
Dil Tu Bhatkay Ga brought to life a real tabooed subject… an illegitimate affair and that too of a woman. The drama serial revolved around the life of a woman who was driven to an extreme because of her lonliness. Dil Tu Bhatkay Ga tried to question a woman's feelings and why was she disallowed to step over her boundaries to feel alive again? Neglected by her husband, who rested in the arms of a courtesan, Dil Tu Bhatkay Ga was the story of Yasmin and her struggles to survive with a guilt of her own.
Nazo
This particular drama on Urdu 1 revolved around the trials and tribulations having a child/sibling with mental illness would bring to one's life. Yes, the subject matter wasn't a taboo but we have dared not brought up the issues and needs of a special child onscreen before. Nazo was a sensational serial that focused on addressing the issue of a special needs child in a family in a very realistic manner. Sonya Hussain gave her best performance to date while Atiqa Odho and Zhalay Sarhadi did justice to their roles. Having a special needs child certainly makes life a living hell, but how can one pull off such a situation with grace, Nazo taught us that in a very significant manner.
Udaari
Momina Duraid, the mastermind behind this tale of a child rape survivor, roped in some very powerful actors to do the job. The subject matter, child abuse, dared to be different… something the Pakistani audience wasn't ready to accept up until now. But things certainly have taken a turn. The issue of child abuse was portrayed with decency and sophistication and the makers focused on addressing the issue more rather than milking the story for TRPs. Ahsan Khan's paedophile character was his best one to date in Udaari.
Khuda Mera Bhi Hai
Does being a transgender child makes one unworthy of living in the society? Khuda Mera Bhi Hai focuses on the life of a third gender child and how the majority of the society shuns the little baby just because he does not have a specified gender. KMBH has been designed to hit at all the right chords… we've never been comfortable discussing the third gender. Its probably the right time to bring up a tabooed issue. KMBH is a thought provoking serial and when powerhouses like Aisha Khan, Jibran Syed, Aly Khan, Samina Peerzada are focused on playing their parts right, there is no stop awakening the issue once and for all.
Sammi
Hum TV happens to be quite an activist when it comes to drama serials with a social cause. Currently on air is Hum TV's Sammi with Mawra Hocane in the lead role. The serial's plotline is based on the Vani- the evil that still prevails and gender biases in our society. Sammi dares to address the issue of how a woman is made a child bearing machine unless she churns out a male child and how laws of humanity fail when it falls into the hands of the so-called Chaudhrys to make a decision. Mawra Hocane, Adnan Siddiqui and Saman Ansari amongst others are delivering quite outstanding performances portraying how evils in the society leave individuals empty-handed and unable to take a stand even for one's own self.
Muqabil
How do you expect a small child to behave when she has to face her perpetrator every single day? How will a child's personality develop when she was raped while she barely understood what it was? Muqabil depicts the sensitive issue of child rape and how a girl who grew up with the atrocity as her secret has now vowed to avenge herself by marrying her rapist's son? Muqabil stars Kubra Khan, Asif Raza Mir and Mohin Abbas Haider in a unqiue and very powerful story.
Ghayal
A girl raped by her best friend? How would that sound? In what light would the society now look at male-female friendships? Ghayal depicts the story of a rape-victim and how she has to be quite for the sake of her family even when she has come face to face with her perpetrator. Ghayal is an eye opener for certain and an awakening call for the women to pull themselves together and slap evil in its face.
Ilteja
How many of us would feel comfortable around a child with Down syndrome? Perhaps very few! We'll campaign for their rights and like pages but if personally faced with the issue, most of the pregnancies with down syndrome children are aborted as soon as they are spotted. Tooba Siddiqui is finally making a comeback on silver screen and has been roped in for a very controversial subject that has never been talked about before. Let's see what this ARY Digital drama would have in store for us.
These Pakistani dramas have tried to defy all boundaries and yet have classically depicted stories with serious and very mature subject matter. We owe it to our talented industry to have addressed tabooed subject matters with such grace and not sensationalise matters of rape, abuse, special needs… what we however are not certain of is the fact about our audience's attitude to what they've seen onscreen. Have they learnt and become aware of the evils in the society? Or have they taken these taboos as an example to be exploited? And what would we make of the recent display of Lesbian Love in an episode of Kitni Girhen Baqi Hain? Are we understanding that these issues exist or are we as a society accepting such realities as the norm now?
Sania Saeed & Farah Shah play lesbian lovers in 'Kitni Girhein Baqi Hain' & shock Pakistan!