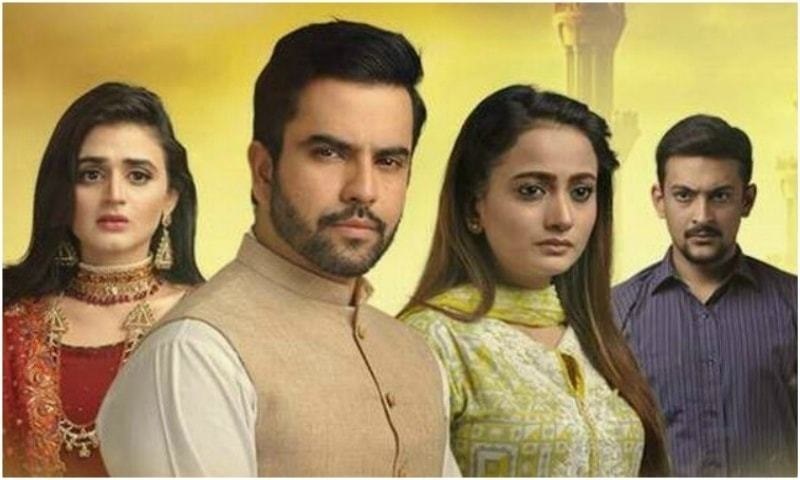 After a slap from Talal (Junaid Khan) Tania ( Ghana Ali) promises herself to ruin him once and for all

To make a drama a hit, it is important to have a good writer on board as well as an able director who can do full justice to the script by bringing on those actors who can portray the characters well on the screen. One such play which has all of these qualities is Sun Yara which week after week just seems to be getting better and better.
Ever since it began, we have been watching this play with a lot of enthusiasm because we simply love Lali ( Xarnish Khan ) and Talal's ( Junaid Khan) family. The only few people whom we can't stand are Lalis in laws who barely smile and have the manipulative Tania played by Ghana Ali as a member who by the way created a nightmare for Talal this week.
Now we all know how much Tania loves Talal but he out of respect for Lali stays quiet and bears with her continuous advances and at times over bearing presence but this week things got a bit too much for poor Talal as Tania openly began to flirt with him in the car on their way to Hinas engagement thinking this kind of behaviour just might attract him towards her.
Read : The upcoming serial Sun Yara is a family drama with a promising cast
With a very wrong thought pattern on Tania's part ( as Talal is a no nonsense type of a guy )and has eyes only for Roshni (Hira Mani) he doesn't react so nicely towards her obscene advancements and in a blink of an eye Talal gives Tania a tight slap right across her face! Now we know she deserved it but still a slap was a bit too harsh we thought.
Apparently, it was not just us who was taken a bit back even Tania decided that enough was enough and she was going to teach Talal a lesson or two. What we do wish was that Tania could have taken another route instead of the typical he tried to rape me bit which honestly has been done to death by now. But since Tania is one clever lady, she manages to trap Talal quite well making him look bad and herself innocent in front of both families who moments before were busy having a good time at Hina's engagement.
One thing which we like about Danish Nawaz's direction is that he doesn't drag the play nor does he have a typical mother who after hearing her son has been accused of trying to rape a girl begins to cry loudly instead he has used a very realistic approach by showing that yes, the mother is worried because she doesn't understand what is happening in her house but at the same time has full confidence that her son would never stoop so low.
Read : ARY Digital's 'Sun Yaara' continues to be our Monday favourite!
With Tania having achieved her goal, is back home and crying her eyes out. Since no one doubts her story except for her sister Erum Baji, things tense up more when Saif ( Faris Shafi) refuses to talk to Lali and tells her to get out of the house. Having seen next week's promo, it suggests that Saif's mum is going to give him an ultimatum either to divorce Lali or if she doesn't want a divorce then she should make sure that Tania becomes a Bahu in her household! Now we cant wait to find out which option Lali chooses but if you ask us then she should simply forget Saif and stand up for Talal against Tania!
One of the best scenes from this week was when Talal gets trapped by Tania in his bedroom and she begins to scream for help. The helplessness or the shock of what on earth is she doing was done quite well by Junaid Khan as his expressions said all what he was feeling. The only two people who are not offering anything new are Saif's mum (who was brilliant in Ghayal) and sister Erum played by Laila Wasti as we feel that Laila could have opted for a better role.
With seven episodes, down and Junaid Khan plus Hira Mani on board we are definitely not missing out on a single episode of Sun Yara which airs every Monday on ARY as we hope that both live happily ever after and Tanias manipulative nature gets exposed soon