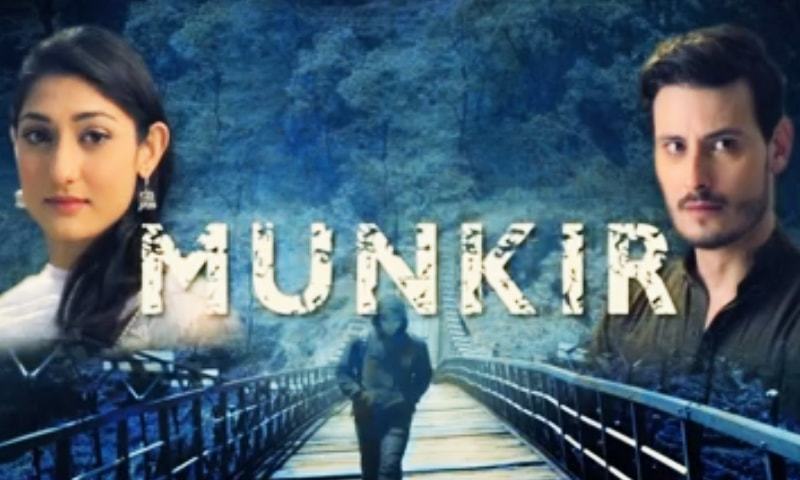 Zafar Mairaj always has something new to offer with his stories which are emotional yet captivating.
Having found the teasers of Munkir quite interesting, we looked forward to watching the first episode which aired recently on TvOne. With Osman Khalid Butt, Nida Khan and Ahmed Ali playing the lead roles in a script penned by the ace writer Zafar Mairaj we are sure the story is not going to be one of those predictable ones. So did the first episode of Munkir impress us or not? Well, read on to find out.
The drama kicked off with a dream sequence in which Runa (Nida Khan) is seen about to marry her fiancé Zain (Osman Khalid Butt) inside a church under the supervision of her beloved hostel warden Sister Catherine. But just as they are about to exchange rings a mystery man comes in and takes Runa away!
Not able to make sense of her dream Runa confides in her lovable stepmother Rania (Mahjabeen) about how she must go and see Sister Catherine in Murree so she could have her blessings before she gets married. Runa feels that's the reason she came in her dream but since she is about to sit for her Mayoun her request is denied by Rania as well as by Runa's Dadi.
Up till now the play is quite simple in its approach, Runa is a very real character who is not overly made up nor is she relying on a lot of expressions to emote her emotions. She comes across as any young girl these days.
Read : Teaser of the drama Munkir will make you want to watch it ASAP
Coming back to the episode, now where Runa's family is modern right there her in-laws are surprisingly conservative even though they live in France; Hijab is their top priority. Having sat for her Mayoun now, we are introduced to her best friend Anjum ( Maryam Nafees) who is constantly pulling her leg after seeing her in laws but that's what friends do!
Runa's marriage has been arranged by Rania and we still haven't seen Runa's dad as he is always busy. However, we did see Zain and gathered that although he loves her, she has yet to fall in love with him.
With Runa having another dream about Sister Catherine, she makes sure that Dadi allows her to go to Murree just to see her. Dadi doesn't know what to do, so she allows Runa to go but only if Rania goes along and the trip is short. Where everything seemed to be going smoothly it is towards the end of the episode that we realise that this is indeed going to be different. We saw a man busy in making a suicide jacket with the main man looking out which we are sure will introduce us to Ahmed Ali in the next episode.
With just one episode down Munkir managed to keep our interest alive mainly because Zafar Mairaj always has something new to offer to the audiences with his stories which are emotional yet quite captivating like his recent work Muqabil and Dumpkhut.
Nida Khan fits the role of Runa quite well and we are hopeful she will do a good job, where we are sure Ahmed Ali will be experimenting with something new right there we wished that even Osman would dare to do different roles. We would honestly love to see him play a baddie because we know he would ace that.
So off to a good start, we can't wait to watch the next episode of Munkir on Sunday to find out a bit more about Ahmed Ali's character and how someone like him gets involved with the innocent Runa.