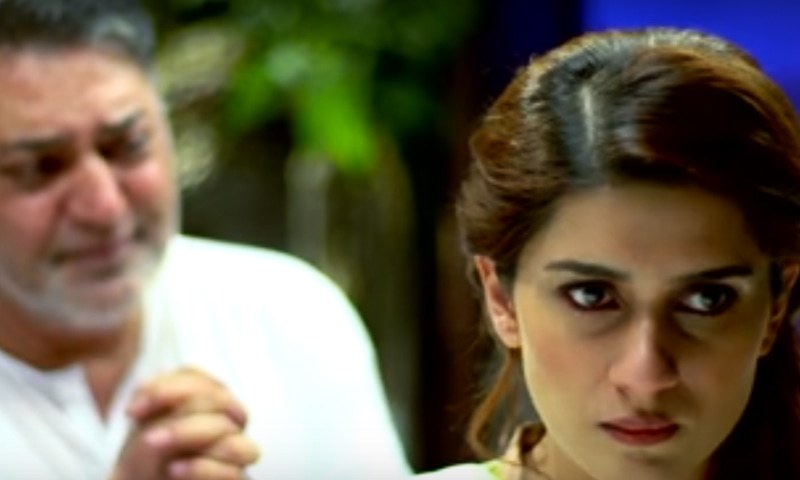 Ali Hassan's direction, intelligent script by Zafar Mairaj & the talented cast is what makes Muqabil a must watch.
Usually, when a drama has been airing for long, it either begins to lose its charm and becomes a drag or grows into an addiction. ARY Digital's Muqabil is the perfect example of a drama that has the audience hooked! It continues to go strong thanks to the story penned down by Zafar Mairaj which is moving at an interesting pace.
The 13th episode that aired last night was a very touching one mainly because Pareesa (Kubra Khan) finally finds the courage to tell that she was abused as a child. However, she did not tell Armaan (Mohsin Abbas Haider) that it was his father who sexually abused her. The only reason she even tells him is because she wants him to understand why she is so hesitant or scared whenever he tries to come near her.
Read : In Review: Muqabil is a show you can't afford to miss
Armaan is a gem of a person, who although never could imagine Pareesa going through such hell is seen trying to cope up with this sudden revelation. He doesn't want to let go of her and confesses how deeply in love he is with her that he cannot imagine a life without her.
On the other hand, we have a character like Mehmood Shb whose guilt has completely taken over him. Upon the instructions of Shah Shb we see him apologising to Pareesa about what he did to her and how she should punish him and not Armaan.
Now where we see Mehmood Shb acting all pious and guilt-ridden one can't help but feel that he is up to something. One just does not feel sympathetic towards him, instead one is left wondering that this must me one of his evil games.
Read : Mohsin Abbas Haider impresses in Muqabil
Coming back to the story, upon seeing how dull Armaan has become now, Pareesa gives him the option to part ways but he refuses to let go. However, with his mother making living together impossible he decides to move out with Pareesa leaving his mother in a frenzy.
The next episode is an interesting one as Pareesa and Armaan shift into her mother's house and we wait to see if they'd finally bond better now.
Director Ali Hassan captures Mehmood Shbs anxiety so beautifully that week after week we are even more impressed by his work and hope to see him directing more serials soon.
The entire cast showcases its acting potential to the fullest and we cannot pick a favourite! However, Asif Raza Mir's character is one we love to hate.
So with a stellar cast like this one and a very captivating story, Muqabil is guaranteed to become a classic!