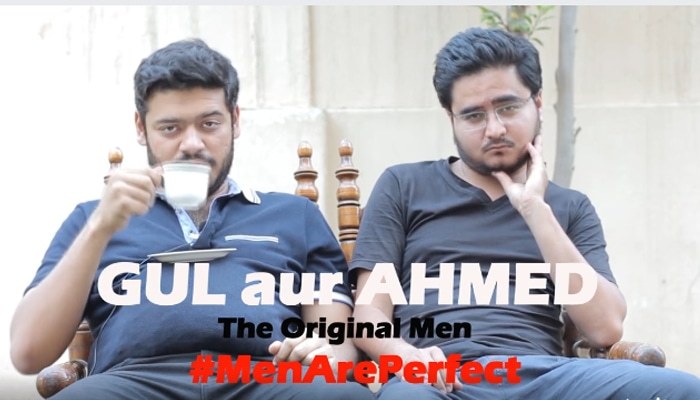 Gul and Ahmed, the real men have the answer to Gul Ahmed's #MeinPerfectHoon campaign

While some marketing experts had to say that the Gul Ahmed #MeinPerfectHoon campaign was a copy of Esprit's #IMPERFECT, we still think the campaign was great and did a job well done! The idea was all about breaking stereotypes and it did leave an impact!
The problems which Gul Ahmed highlighted were the basic problems due to which girls in our society don't feel good about themselves. When they fail to meet the beauty standards set by the society, they think they're imperfect and lose their confidence.
Today, the social media gives everyone with an opinion a platform to raise their voice and be heard. Virality is just a click away. It's so effective that brands are launching their digital campaigns instead of stepping into traditional forms of marketing.
And just like the original campaigns, people coming up with their spin-offs get famous instantly as well!
Remember how our darling Osman Khalid Butt made parody videos go viral, and how the famous Ali Gul Pir revealed the truth about'Wadera ka Beta'? In this era, EVERYTHING can go online and fame is just one viral video/post away.You just need to add the right ingredients!
After Gul Ahmed's campaign of #MeinPerfectHoon, the internet was taken by storm by Tamasha Inc with their response to this campaign. Oh, and we must say it's hilarious!
Gul Ahmed's latest TVC teaches you to celebrate your individuality!
Now, these are not just bunch of new guys in the neighbourhood, they have been around since 2011 and produce comedy content and do theatre too. They have targeted funny dress codes of men by showing a guy wearing a shirt over shalwar kameez, one slurpy and sloppy guy with a tondh, and a clumsy guy! I mean, these are not the kind of men most girls will go for, right? And well, as they say - they are still perfect in their own way! Because Gul and Ahmed are real men.
If you haven't checked out the video yet, here is the link:
And no matter what, we still believe, it's a beautiful world and everyone has a unique identity, stop judging people on their looks and focus on their personalities.